LARABA BOARD MINUTES, APRIL 2015
Posted on
November 22, 2015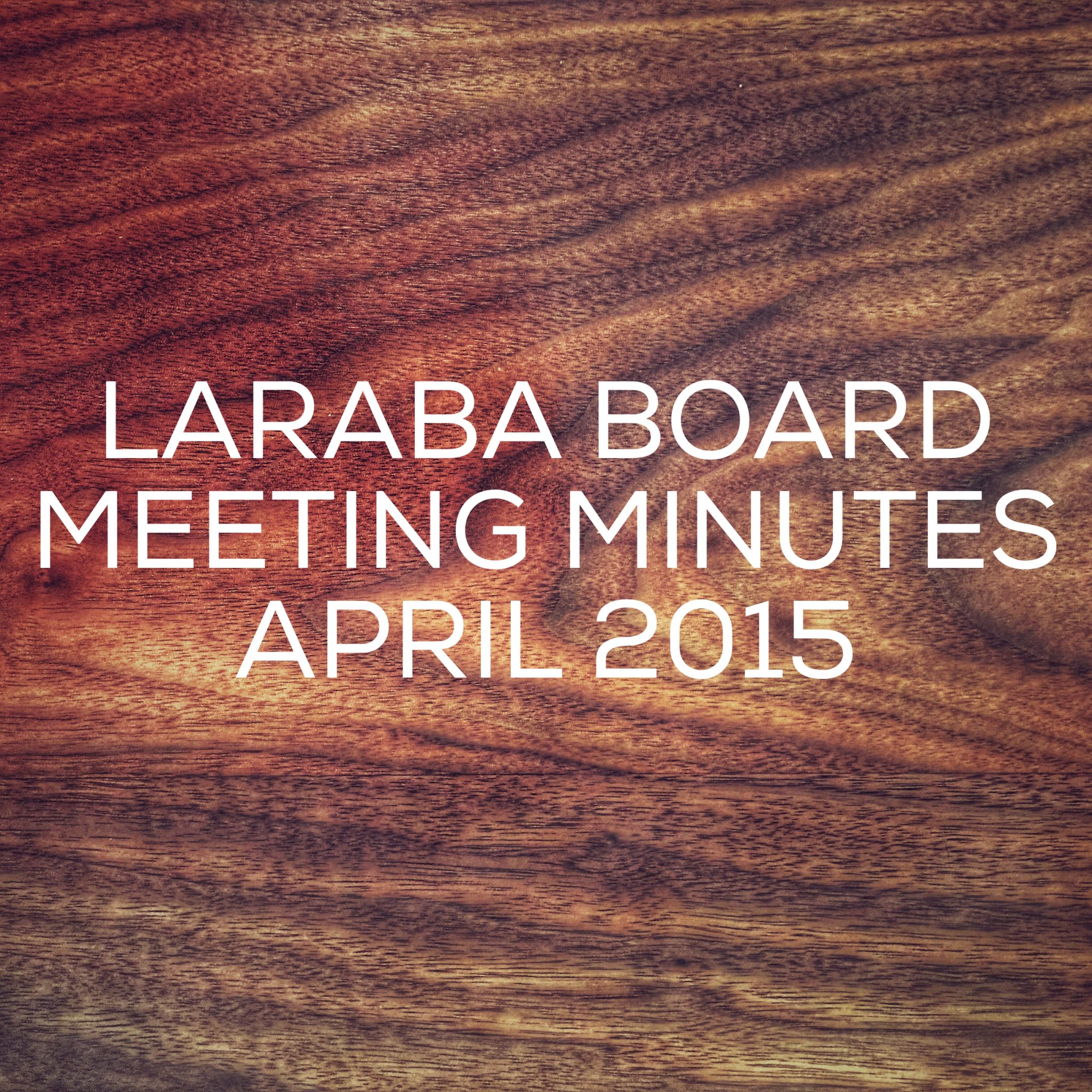 Los Angeles River Artists and Business Association
Minutes for LARABA Board Meeting
prepared by Wendy Sherman
DATE: April 6, 2015, 6:30pm at Art Share
I. Roll Call –
In attendance: Andrew Kasdin, Chris Fudurich, Deborah Meadows, Tom Minkler, Wendy Sherman, Gabriele Newmark, Tyler Stonebreaker, Mark Borman, Mark Wlash, Jamie Bennett, Beth Topping, Cindy Schwarzstein, Heath Satow, Joseph Pitruzzelli, Norm Solomon
Guests: Officer Chris Jarvis, Paul Shimmel, Cheyenne Sauter
II. Review / Approval of previous meeting's minutes
Voted on and approved – one abstention, was absent
III. LAPD SLO Chris Jarvis[evening walk with the captain]
Anyone want to do a walk in the Arts District with Officer Jarvis? On a Thursday in 2 weeks. 6-7:30pm, dogs OK. Will check back with us. Reported on crime in the neighborhood.
IV. Officer's Report [ President, VP, Treasurer, Secretary ]
Joseph gave treasurer report: $50,340.47 checking balance,
$5,501.41 savings balance
V. Committee Reports
– Assets / Marketing – Lindsay (absent) No report
– Budget – Joseph
Discussed budget draft for 2015
Discussion of adding a staff person, maybe to share with LADAD space?
(Administrative Assistant)
Discussed of Bloomfest Budget. Change name from "Bloomfest" to generic Arts District event?
Voted on and approved Joseph's budget
– Bylaws & Elections – Tom
Tom reported on bylaws. Will have more of a report at the next meeting
Discussed membership issues, will discuss further in committee meeting
– BID rep – Yuval (absent)
– Dog Park – Dawn (absent)
Heath – Donations: plaques, key chains
– Greening – Gabrielle
Postpone tree trimming to summer
Non-profit org. planted 11 trees
Stressed trees need water
Recommend watering – need to figure out a number (budget/cost)
Jamie – suggested One Santa Fe needs help with trees (watering)
Gabrielle – will put a budget together to water trees for them
– Land Use – Tyler – no report, read minutes from meeting
– River – Yuval (absent) No report
VI. New Business [ 5 min each including Q&A ]
I. Paul Shimmel – Hauser, Wirth & Shimmel Art Center Intro
Paul Shimmel gave presentation and slide show on the opening of his new Art Center at 901 E. 3rd St., which will be opening in March 2016.
Shimmel spent 22 years at MOCA, now partnering with Hauser & Worth to develop a hybrid gallery/museum.
Q & A followed –
When will this info go public? Will go out to press Fall 2015
II. Ani – The Hub LA 1 sheet + intro
Absent – no presentation
III. Cheyenne Sauter – Art Share
Above The Streets – honoring Kent Twitchell
Fund raiser – May 14 – looking for sponsorship
Cocktail reception, and reward reception
Tickets $50 each, prints for sale, plus merch
IV. Dev – Brokechella
Absent – no presentation
V. Miller Duvall – Spirit Guild
(Mike – presented at HCNC also)
586 Mateo – distillery – can't operate as a bar
Offsite sale of alcohol
Hours: 8am – 12am, 7 days
Gin, Brandy, and liqueur
Seeking letter of recommendation
Fermentation odor – similar to Angel City
4 parking spots in back, same as Blue Bottle
Would like to collaborate with local artists on poster art
Planning to open mid-May
VII. Public Comments
Jed from LA River Expeditions
George Wolf – takes special groups; cost is $60 for a 3 hour trip
Special Groups are: Union Rescue Mission, etc.
Asking for $240 to take a group
Submit to Budget committee – email Joseph a proposal
Must go on agenda for May
Time frame: Memorial Day
VIII. 5-10 minute break (8:00-8:10pm)
IX. Executive Meeting [ LARABA members only ]
Support "Above The Streets " event at Art Share at Gold level
$1,000 to Cheyanne @ Art Share; Voted on and approved
Spirit Guild – letter of support; Voted on and approved
Tyler abstained because he works with them
HCNC:
500 S. Mateo St. – Mateo Market
11 parking spots
Looking for offsite parking
Parking is issue
Patio for alcohol consumption
Letter of support – Voted on and approved
Tyler abstains
Molino St. Unnamed Restaurant
Will have valet parking
Parking in 7th Bridge
150 parking spaces
Cold Storage building on North 7th
Letter of support – Voted on & approved
Discussed easements under bridges – used for parking – private or community use? Political issues – controlled by city – could unlock a lot of parking for community.
520 S. Mateo St. –
Verizon's proposed "faux" chimney to camouflage wireless tower
We need to take stance & take action
We want them to find another site
Letter of opposition from board, voted on and approved
Retreat follow up – Board's Mission –
Talk about our annual goals
We have been reactionary – not pro-active
Need to work on our priorities
Schedule an hour to look at results of the retreat and discuss
Cut business to 30 min., bring in food
Start meeting at 6pm
LARABA pays for food
May 4th meeting
Discussed the 2015 Budget
Film Revenue
History of the Film Revenue program in the AD
X. Adjournment – 9:00pm