LARABA BOARD MINUTES, AUGUST 2015
Posted on
November 22, 2015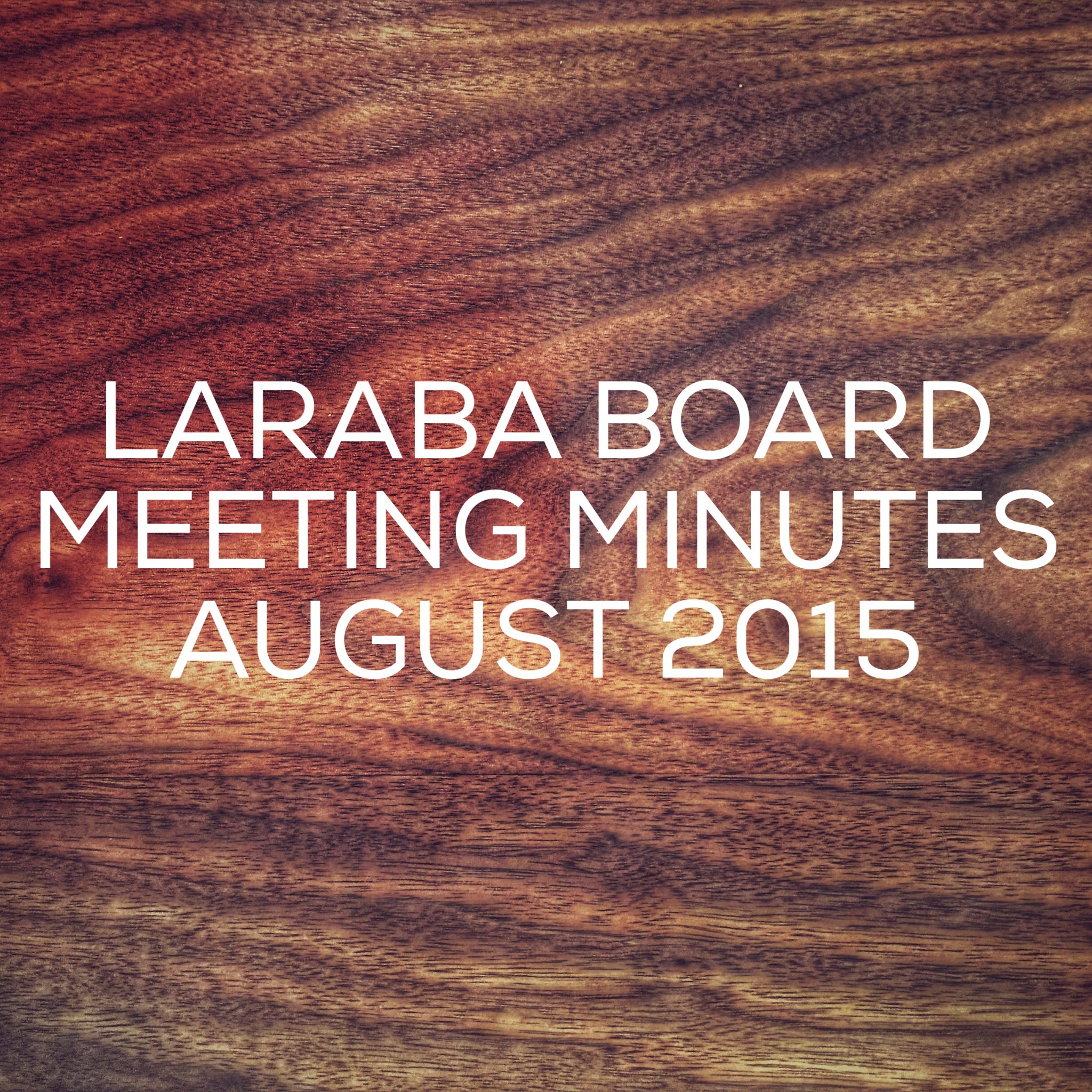 Los Angeles River Artists and Business Association
Minutes for LARABA Board Meeting
prepared by Wendy Sherman
DATE: August 3, 2015, 6:00pm at Art Share 801 E 4th Place LA, CA 90013
I. Roll Call –
In attendance: Chris Fudurich, Deborah Meadows, Tom Minkler, Wendy Sherman, Gabriele Newmark, Mark Borman, Mark Walsh, Joseph Pitruzzelli, Heath Satow, Andrew Kasdin, Vivian Um, Beth Topping, Tyler Stonebreaker, Dawn Cody, Norm Solomon, Jamie Bennett
II. Review / Approval of previous meeting's minutes:
Will vote on and approve minutes from July in Sept. meeting
III. LAPD SLO Chris Jarvis
Miguel introduced Tony from BID – captain of team, picks up hotline
Public Safety report, attends rent control meetings
11 property crimes (non-violent) unattended property
15 arrests (BID & LAPD combined) 38 catches – trespassers and vandals
These are July numbers (large amount near Santa Fe and the 6th bridge, 590 S. Santa Fe location)
IV. Officer's Report [ President, VP, Treasurer, Secretary ]
Chris – Met with Film LA, Farmers Market report
Joseph – Met with bookkeeper, January–June 2015 finished, will have full report end of next month.
V. Committee Reports
– Assets / Marketing Lindsay – Chris gave market report
– Budget Joseph – Full report in September meeting
– Bylaws & Elections Tom – Had meeting – President runs board meeting, VP does everything else – President should be able to delegate to VP
Deborah: Meetings by telephone – should follow non-profit rules
Can poll people by phone, can't call a vote – vote later at meeting
Corporate records should be available to public and board members
May be regulated by state
Assets can be used to help develop board, cannot go to individual members
Discussed changing elections to 1/3 of board, minimum number of votes
Tom will have old bylaws with cross outs and new additions next month for board approval
– BID rep Yuval – Miguel reported on surplus of bicycles
– Dog Park Dawn – drunk driver hit a pole – light went out, water in park needs to be fixed. Joseph will get DWP info to Dawn so she can have that fixed
Held event at Angel City – made $100, could be ongoing event.
Heath reported on new plaques, couple new additions
Joseph reported on Dog Park – 1st group to get funds through PayPal – $145
– Greening Gabrielle – Met to identify trees to be watered, created map, got funds from another donor also. 60 trees total to be watered in next couple weeks
– Land Use Tyler – Couple letters floating around in opposition to Land Use Ordinance – Hybrid Industrial Zone. Yuval wrote a letter – will need to vote on sending it in before upcoming hearing on Aug. 13
Discussion on whether new ordinance will apply to projects already entitled –
Amp Lofts & Dilip's? Everything not previously entitled – according to Tyler.
No quota any longer – projects under 3 acres. Discussion of Dilip's project.
Will discuss further and vote on letter in executive session
1948 E 7th St – Silverlake Wine – looking for vote on letter of support for wine tasting permit
Joseph makes motion, Andrew seconded, motion voted on and passed
Yards at One Santa Fe – Metro Transit Station at 160 E. 1st St. presented – layout was not well accepted
Discussed past promises from Metro
Andrew – suggested reaching out to the regional leadership committee – the JCCC?
– River Yuval – absent
VI. New Business
I. Miguel Vargas / ADLA BID [15 min]
Homelessness has gone up 12% in LA County
In LA – 35,000 homeless
3,500 – 4,000 in the Downtown Area
Creates problems: trash, aggressiveness, pan handling, public urination
Solutions/Tactics – don't really work
Forum to rethink approach
Enforcement was ramped up and got slapped with lawsuits
Industrial District BID will dissolve because of the way they dealt with homeless
Need to work as a community – approach from different angles
Enforcement through LAPD, education campaign
Don't give them donations, educate the community
Vivian – locals are aware, people from outside that come in are the problem
Signage – don't give money to homeless – give to mission, homeless services, etc. Brochures in stores, taking money in street is not the way to fight homelessness, banners on light poles, clean & safe, street banners
Zip is giving out empty bottles to local homeless people
Discussed how to handle homeless issue – aggressive homeless
Miguel – BID/Police can't be everywhere at once
Joseph – they are using old parking meters to take donations in San Diego:
Real Change Movement.org
United Way LADOT tried to get it going, but who is going to collect the money?
VII. Public Comments
Don – from street closure committee
Re: Bicycle Races
Midnight Drag Race – Lifestyle Art/Competition
Letter of Support for hosting race on 6th St Bridge before it is demolished
Did race once in 2007, would like to hold race again before bridge closes, but is cleared of traffic
Joseph motion support, Mark seconded – voted on and approved
Jamie – reported on Metro Building at 6th St. Bridge
Metro staff going ahead and moving forward with the building
Making sure they shift building as far East and North as possible on the lot
Must report to us
Will NOT find alternative site, design, and location of building
Architect would like to work with the community on the design of the building
VIII. 5-10 minute break
IX. Executive Meeting [ LARABA members only ]
I. ADFM marketing
Mark W. presented sign he designed for market
Will need sand bags for security
Mark will make up 2 or 3 signs, for each corner of triangle
Battery operated light, artists to volunteer to create artwork
Cost was around $50
Storage? Pie Hole can store
Marketing budget – just bought A-Frame signs for market in April
Joseph – run it as a Farmers Market expense
II. Angel City
Chris – reported on meeting with Alan at Angel City Brewery
Uncomfortable exchange about Jonathan taking down Angel City's fence
Wanted Chris to accept responsibility on behalf of LARABA
Could not get past this
Deborah reported on a meeting she had with Alan about rebuilding the fence when she was president, but the idea was eventually dropped
Mark B. – figure out how to get a contract that is more than month-to-month
Our goal is a place to have the Farmers Market.
Chris – Must deal with attorneys in order to make a new contract
Must research liability insurance on not having a fence on that lot when the market is not there.
There must be an issue with there being a fence on the property.
Must remedy the situation. Have a meeting and try to come to an agreement.
Negotiate putting in a new fence or doing what is necessary to be able to come to an agreement. Need to research the fence situation, offer to contribute some funds for the new fence. Schedule a future meeting with Chris and a couple key LARABA board members to negotiate further. Chris would like to get Yuval involved when he is back in town.
III. Film Revenue
Send letter to LADAD to request disclosure of funds that are brought in from the film revenue for 2015. Put them on notice – would like to see the tax returns for last two years.
Mark B. made motion, Joseph seconded, that LARABA write a letter –
and send an invoice for LARABA's 39% of film revenue since January.
Including a letter of statement. Reference the original Agreement.
Ask for books for audit of past two years and tax returns.
Also addressing the deferment of the past two years.
As soon as we have an opportunity to renew the agreement
Which was – 2 years to give them 100% of film revenue for ADCA
Came back and asked for 2 more years (for our 39%)
We need them to acknowledge that it the film revenue is LARABA's revenue stream, does not belong to LADAD, originated at LARABA
We need to see their accounting for the last 2 years
Auditing revenue
Invoice of revenue since January 2015
(Original agreement ended in Dec. 2014)
Need an accounting of funds for 2013, and 2014
Accounting for funds received so far in 2015
Would like share of funds from 2015, that said –
Board wants known that the funds are coming through LADAD currently
Want to be clear that the funds belong to LABRA – NOT LADAD
1) They get a share and we get a share (39%)
2) We would like to contribute our share
3) Funds are being directed through LADAD, why not LARABA?
Refer to rules of filming revenue agreement
Joseph wants to see books – the books are public info
If they are asking for support from LARABA we are entitled to see their books
Federal Government posts non-profit tax returns
Motion on the table: Motion voted on and passed, all in favor
Yuval's letter to the City, re: Planning Commission
Joseph is concerned with wording of letter – wants the ask to be clearer
Arts District should have it's own ordinance
Yuval wants to have a right to an appeal
Reserve the opportunity for a more thoughtful appeal
Tyler – extended delay – ask Yuval what he wants to accomplish
Mark B. – discussed acceleration of land prices as a direct result of this ordinance and related upcoming article in LA Business Journal
Feature article coming out this weekend – about "friendly developers" upset with the city about the ordinance that is ruining the look of the downtown area and making it impossible to reuse old buildings and build any affordable housing.
Cheaper construction, driving up the price of land, running the AD community
Would like the letter to state that – the needs of community were not listened to, we are vehemently opposed as LARABA, and that the Arts District should get special consideration, from rest of ordinance.
Tyler – Best case scenario – postpone passing ordinance until Recode LA – keep developers out of the Arts District – this would be a big win.
Will need legal advice, need to get the ordinance challenged and postponed
Mark – LARABA needs to send a letter that is succinct
Presents our opposition of the land use ordinance
Tyler will discuss with Yuval and make sure the letter gets sent out
Mark – motion to send Yuval's letter with refinements
Andrew – seconded
Voted on and approved.
X. Adjournment – 9:26