LARABA BOARD MINUTES, FEBRUARY 2015
Posted on
November 22, 2015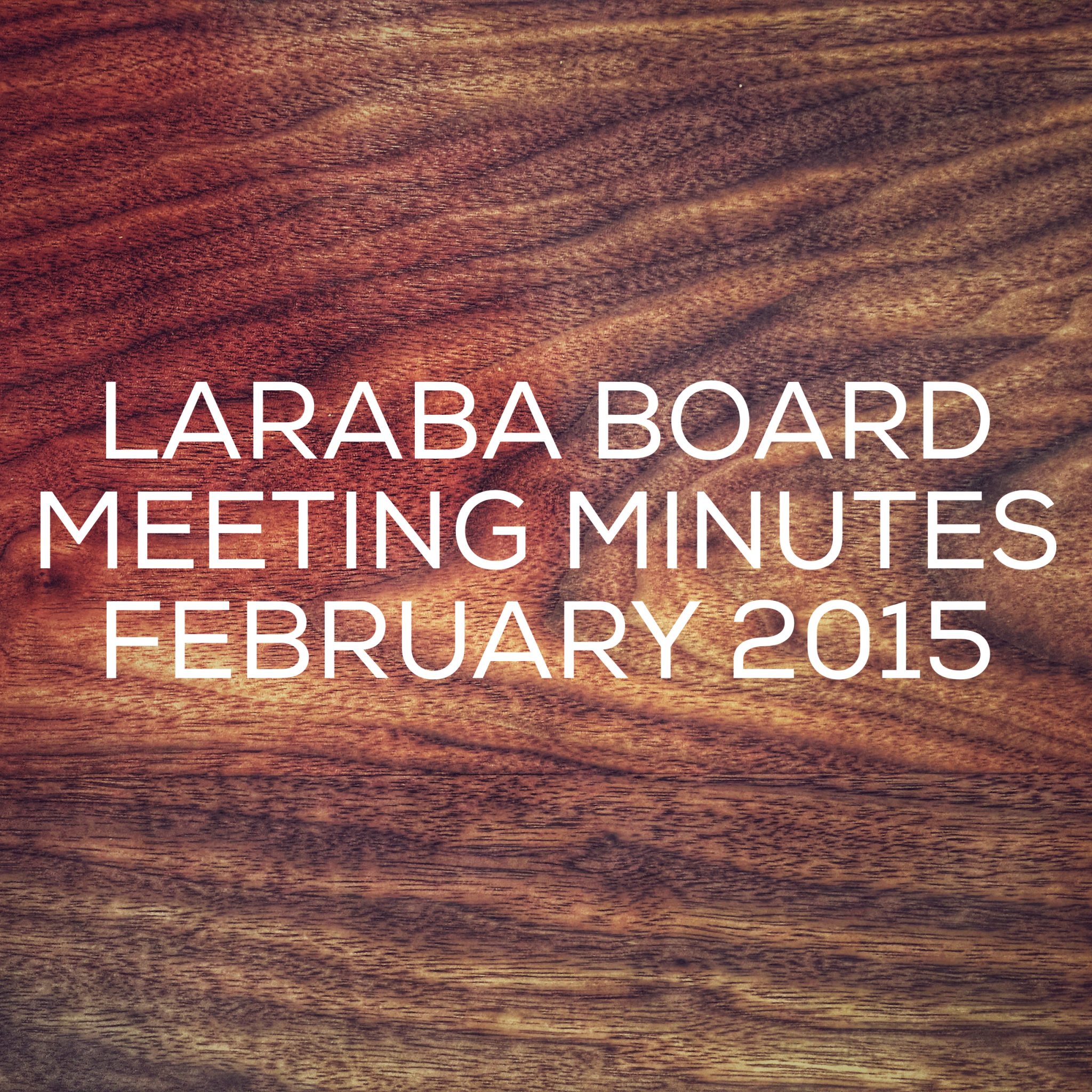 Los Angeles River Artists and Business Association
Minutes for LARABA Board Meeting
prepared by Wendy Sherman
DATE: February 2, 2015, 6:30pm at Art Share
I. Roll Call –
In attendance: Andrew Kasdin, Chris Fudurich, Tim Keating, Deborah Meadows, Tom Minkler, Wendy Sherman, Gabriele Newmark, Joseph Pitruzzelli, Tyler Stonebreaker, Vivian Um, Mark Wlash, Dawn Cody, Lindsay Hollister, Beth Topping, Jamie Bennett, Justin Shenkarow, Beth Topping, Cindy Schwarzstein,
Guests: Officer Chris Jarvis, Miguel
II. Review / Approval of previous meeting's minutes
Beth had a change to the Jan. 2015 minutes: "Beth will look into changing passwords" I actually said that I had all of the passwords for the Bloomfest assets (with the intention of providing them to Chris).
Tim – motion to approve with Beth's changes, Deborah seconded. Voted on and approved.
III. Officer's Report [President, VP, Treasurer, Secretary]
Chris has nothing to report – everything is good.
Joseph gave Treasurer's Report – checking balance: $3314
Reserve: $5501 Farmers Market income $23,694
Dog Park – 2015 Budget, next meeting
IV. New Business
1. Vivian Um / ZA Hearing on 2015 02 26 follow up letter [10 min]
Notice for beer & wine permit is up. Any objections?
LARABA approved as a group – open to public comment.
Presented to HCNC also. Deborah moved to submit a letter of support. Voted on and approved
2. 620 E 1st Street project [10 min]
First Street Restaurant Presentation
Joseph made motion to write a letter of support, seconded, voted on and approved
3. Tom Minkler / American Hotel conversion [10 min]
Was offered $2000 to move out, owner is converting building to a hotel, was then offered a larger amount of money. Thought there was a law that they couldn't convert SRO housing to Hotel (SRO – Single Resident Occupancy requirements – no bathroom in unit). They may try to condemn the building because of the bathrooms – they say it's not livable. They want to convert the downstairs back into Al's Bar. Ground floor is gutted. Send owner and building mgr. invitation to attend Board meeting. The American Hotel was the only affordable housing in arts district. If you are one day late with your rent they won't accept it. They will offer to buy you out instead – just to get all tenants out of the building.
V. Committee Reports
Officer Chris Jarvis – Reported on safety in the neighborhood.
Reported on recent shooting in arts district
Chris' contact info: 213-793-0731, 36636@ lapd.lacity.org
Contact info for South of 7th: Officer Mark Highland, 323-572-3462,
24603@lapd.lacity.org
– Assets / Marketing [Lindsay, Mark W]
Lindsay is Chair, Working with Susan on ideas
Want to redesign postcard & work on marketing, music
Need 20 people to sign up for a produce box every week, pick up at Farmers Market on Thursday. Small box is $17 for 7-9 items, large box is $22 for 12 items
Advertise new parking lot in Neptune building
Beer Garden – Angel City to sell bottles of beer at market?
Chris moved to allocate $500 to the Farmers Market for updated postcards and music. Tim seconded, voted on and approved
Chris is at the market between 6-7pm on Thursdays to meet with committees
– Budget [Joseph, Deborah]
Joseph (chair of budget committee) made report
Wants to hear from committees about allocating funds
33% arts, business, community (equally) Have budget by next month
– Bloomfest [Tim]
Got a check for $1,400 from CD-14 (discretionary funds)
Had a follow up meeting. Will talk more in executive session
– Bylaws & Elections [Tom, Jamie, Norm]
Jamie – bylaws are a process
– BID rep [Yuval]
Yuval is absent
– Dog Park [Dawn]
Dawn Reported on upcoming Dog Park event: "Happy Healthy Dog Day" Feb. 21, 1-4pm. LARABA presence at Dog Park. Need special event Insurance. Cost comes out of Dog Park Budget. Dawn made a motion to research cost of insurance and refreshments for event and cost will be reimbursed from Dog Park budget. Motion seconded and approved. Discussed wheelchair access accessibility. Researching costs involved in moving gate to accommodate wheelchair access. Dog Park budget for 2014 – Donations $13,000, spent $5,500, balance $7,000, operating budget: $4,000
– Greening [Gabrielle, Dawn, Tim]
Gabrielle is chair. Have not met yet. Tim estimates spending $2,000 on tree planting this year. Tree planting event this Sat. 9am-1:30pm, Mateo, south of 7th
– Land Use [Tyler, Gabrielle, Mark B, Mark W, Joseph, Deborah]
Tyler is chair. Combine HCNC & Land Use meetings – 3rd Wed. at SCI-Art, 7pm
Will remove bottleneck for ZA meetings
– River [Yuval] absent
VI. Public Comments
Brokechella Music Festival
590 Santa Fe – one day only – April 18th, 1pm-11:30pm
http://www.wearecartel.org/2015/02/brokechella-submissions-now-open/
Contact: Dev Bajaj
dev@wearecartel.org
312-399-6202
Hulio – AMP loft, pop up galleries, Imperial Art Studios, 7th & Imperial
Place to host meetings, events, etc.
https://www.thestorefront.com/properties/680-imperial-street-los-angeles-ca-90021-usa–681
Andrew Hernandez, remodel, contractors, designer, rebuild
http://www.a-ind.com Contact: 213-290-0091, andrew@a-ind.com
VII. 5-10 minute break
VIII. Executive Meeting [ LARABA members only ]
IX. Adjournment (8:00pm)
X. Closed Board Meeting beginning at 8:05pm
a. Discussion – – discussed rules of closed session
Loyalty towards that non-profit – if you are in conflict
b. Marketing / Rebranding – public, except discussion of web site, 20 hrs. per month, confidentiality agreement, considering three candidates: Bloomfest website designer John Reed, Lindsey has suggestion, Todd
Fund raising, Paypal links; Discussed Social Media
Jonathan made a motion – approve $2,000 to build web site in word press, $100 maintenance fee ($1,200 for the year) per month for updates.
Chris will set up a meeting with John Reed
Save rest of the topics for next month's meeting.
c. Member involvement with sub committees / everyone contributes –
Chris – notes from committee meetings
d. Discussion – Retreat follow up
e. Revisit 501(c)3 vs (c)4 – Pros/Cons (cost vs benefit to organization)
f. Dilip's Quimby funds / Huizar's change of application
g. LARABA's raison d'être
h. Bloomfest discussion – (can be public)
i. Film Revenue
j. Any remaining discussion from public meeting
XI. Adjournment – 8:45pm