LARABA BOARD MINUTES, JANUARY 2015
Posted on
November 22, 2015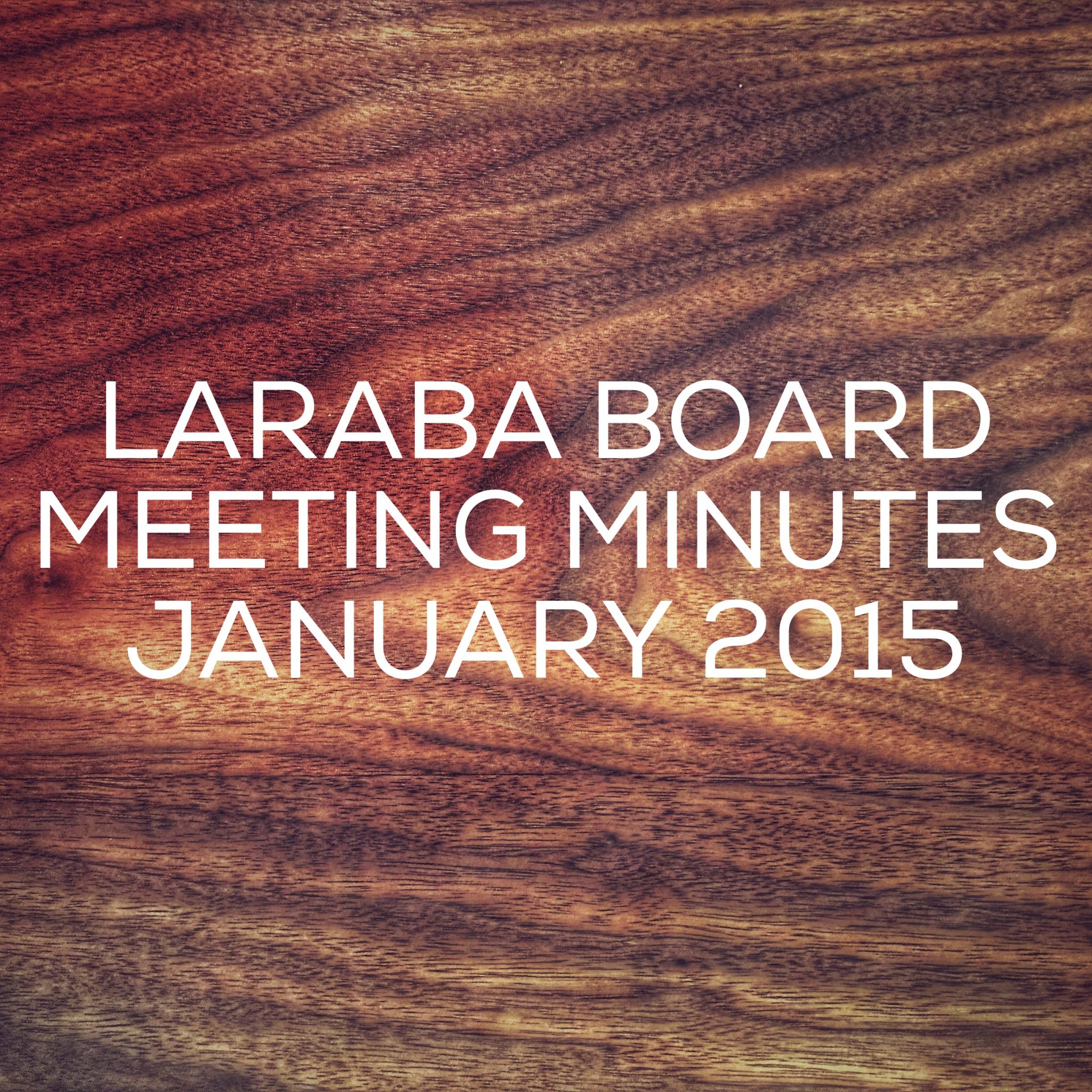 Los Angeles River Artists and Business Association
Minutes for LARABA Board Meeting prepared by Wendy Sherman
DATE: January 5, 2015, 6:30pm
Art Share 801 East 4th Place, Los Angeles, CA 90013
I. Roll Call –
In attendance: Christopher Fudurich, Tim Keating, Yuval Bar Zemer, Deborah Meadows, Tom Minkler, Wendy Sherman, Cindy Schwarzstein, Norm Soloman, Gabrielle Newmark, Joseph Pitruzzelli, Tyler Stonebreaker, Mark Walsh, Andrew Kasdin, Heath Satow, Dawn Cody, Lindsay Hollister, Beth Topping
Guest: Tanner Blackman
II. Approval of prior meeting minutes – Yuval made motion to approve, Tim seconded. Both Nov. & Dec. 2014 minutes voted on and approved
III. Executive report (Deborah Meadows)
Tax credits – Brewery, Santa Fe Arts Colony – discussed
IV. Treasury report (Deborah Meadows)
$29,415.84 in bank on 01/01/2015
reserve: $5,501.32
Not including bill for approx..$2,000 paid today
V. New Business
1. "Hopscotch" — Yuval Sharon, LA Opera presented on work coming to the Arts District; Mobile Opera for 14 Cars – Oct./Nov.
Previews begin Oct. 3, 2015, Opens Oct. 31, Closes Nov. 22
Locations – Downtown, Boyle Heights, Chinatown, Frogtown/Lincoln Heights
Central hub/finale at SCI-Arc
More info: The Industry www.theindustryla.org
Contact: yuval@theindustryla.org
Will host brainstorming lunch – last week of January
2. LADOT Bus Maintenance and CNG Facility public art project:
Ligeia D. Gorre, Arts Manager, Refik Anadol (artist), Dave Hunt (Refik's Project Manager), Felicia Filer (Director, Public Art Division)
Projected Light Sculptor – worked at Disney Hall
Ligeia D. Gorre from Cultural Affairs introduced artist Refik Anadol who created "City of Bits" light projection public art piece for new bus maintenance facility
3. Iron Triangle Brewing
Declined opportunity to speak to board
VI. Public Comments and Announcements
Tanner: El Sereno Field Office at 9:30am José Huizar will announce campaign for Primary Election. More info: http://www.josehuizar.com/el_sereno
Yuval discussed the proposed live-work ordinance with Tanner—mid-March hearing
Laura Velkei announced Arts District Alliance/ADCCLA event with China Projects at Lot 613 & Art Share, Jan. 20-25. Cindy Schwarzstein will be doing tours on Tues. & Wed., Jan. 20-21.Contact Laura for more info on private event at Container Yard on Friday, Jan. 23. She is also looking for help with events during that week.
VII. Closed Board Meeting beginning at 8:15pm
–Discussion of land use committee approval procedure & protocol
Motion to send letter to zoning committee:
Unable to provide a recommendation at this time for the project until Iron Triangle come before the full board in accordance with LARABA's protocol.
Yuval made motion, Tim seconded, voted on and approved.
Umami Burger letter – motion made by Joseph, seconded by Yuval, voted on and approved.
–Discussion of Candidates for President
Deborah Meadows declined nomination for second term
Christopher Fudurich was nominated for President at December meeting, and elected in the January 5th meeting by all except for one opposing vote.
Christopher Fudurich announced that he has arranged for Tom Minkler to take over the running of the web site, and he will see that all LARABA assets are returned from Laura Velkei. Beth will look into changing passwords, etc. Deborah suggested that two or three people collect a few bids for professional web support to present to the board, that further efforts be made to store contemporaneous committee minutes with corporate minutes, that each page printed from our sites have the identification of LARABA, web address, etc.
Norm made a motion that we remove Laura Velkei as web person immediately. Wendy seconded. Motion was passed unanimously.
These officers were voted in:
Christopher Fudurich – President
Yuval Bar-Zemer – Vice President
Joseph Pitruzzelli – Treasurer (interim)
Wendy Sherman – Secretary (interim)
2015 Committees:
Budget – Yuval, Deborah, Joseph
Bloomfest (report by Tim) – each partner had a loss under $300. to put on the event; never got CD-14 funding, CD-14 office lost paperwork
Bylaws Committee – Tom, Jamie (confirm) & Norm (confirm)
BID representative from LARABA – Yuval
Dog Park – Dawn (chair) & Heath (vice chair)
Land Use – Yuval, Joseph, Gabrielle, Tyler, Deborah, Mark Walsh, Mark Borman
Greening – Gabrielle, Dawn, Tim
LA River liaison – Yuval
New committee: Developing assets of LARABA: Lindsay & Mark Walsh
Discussion of possible Artist Relations committee? Marketing committee? (Developing, Fundraising) Consolidate committees? Strategic Planning – not a committee – something we need to work on as an entire board
VIII. Adjournment – 9:15pm