LARABA BOARD MINUTES, JULY 2015
Posted on
November 22, 2015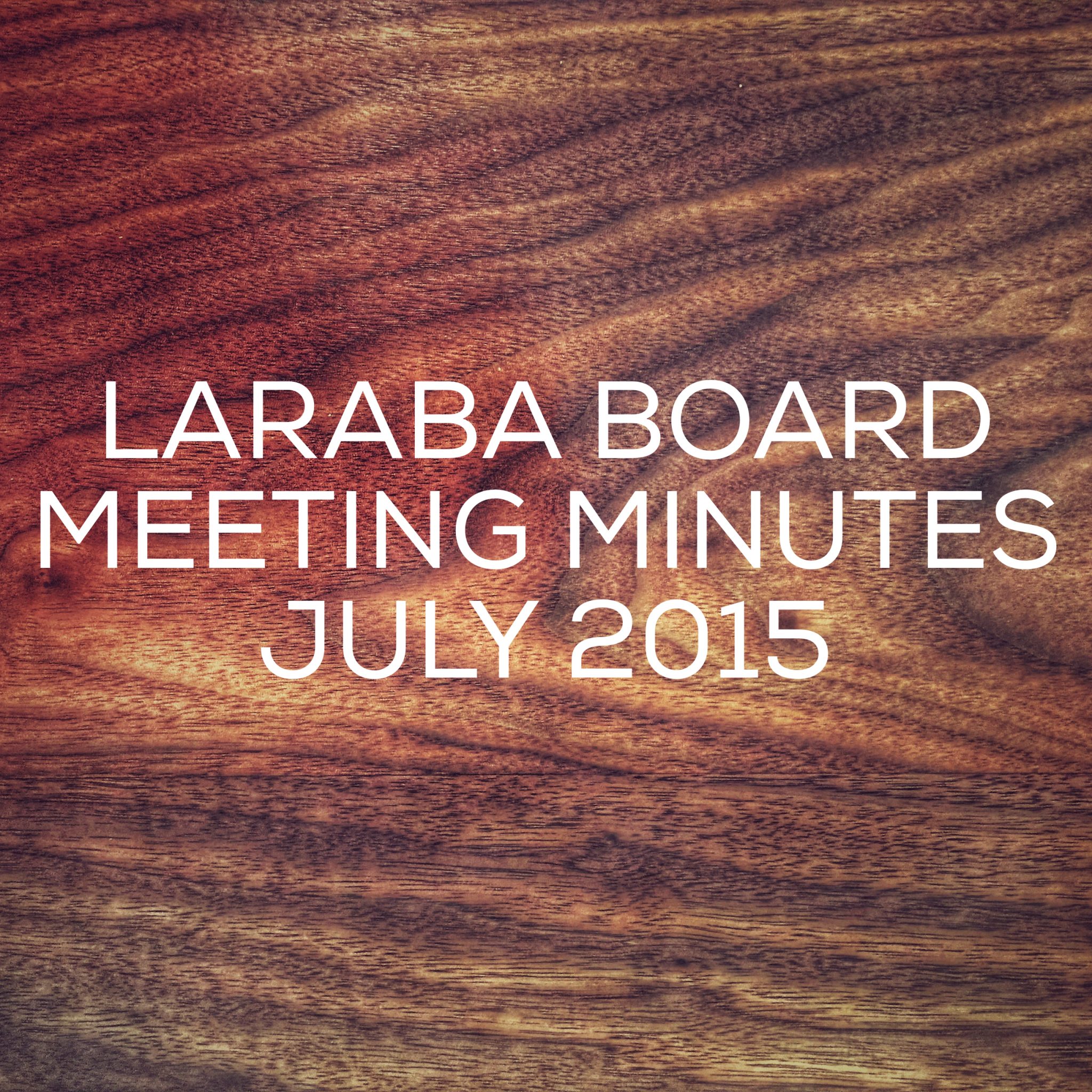 Los Angeles River Artists and Business Association
Minutes for LARABA Board Meeting
prepared by Wendy Sherman
DATE: July 6, 2015, 6:00pm at Art Share 801 E 4th Place LA, CA 90013
I. Roll Call –
In attendance: Chris Fudurich, Deborah Meadows, Tom Minkler, Wendy Sherman, Gabriele Newmark, Mark Borman, Mark Walsh, Joseph Pitruzzelli, Norm Solomon, Lindsay Hollister, Tim Keating, Yuval Bar-Zemer, Heath, Andrew Kasdin
II. Review / Approval of previous meeting's minutes – voted on and approved with following amendments:
III. LAPD SLO Chris Jarvis
Officer Jarvis not in attendance this month
Chris F. reported on robbery at – 3am, 2nd & Vignes
Burglary increase, broken window, suspects arrested
Guy trying to steal bikes, long rap sheet, Chris posted flyer with photo
Homeless are not allowed to sleep under the bridge any longer, due to hazard – sleeping in alcove
IV. Officer's Report [ President, VP, Treasurer, Secretary ]
V. Committee Reports
– Assets / Marketing (Lindsay) – need to meet with Susan re: mailer
Street closures approved, more outreach, Gabrielle will help distribute
postcards. Joseph – reported on $2,000 funds allocated, spent $350 so far
Need to establish protocol for distributing funds
– Budget (Joseph) –
– Bylaws & Elections (Tom) – committee will meet on Thurday, July 16th
Will try to have a draft by August meeting
– BID rep (Yuval) – Miguel reported in Yuval's absence: Geary project completed
by Dec. Update on Quimby – will have something by the end of the year;
abandoned building near 6th St bridge will be new MO building
– Dog Park (Dawn) – Heath had nothing to report this month
– Greening (Gabrielle) – Trees have been trimmed, arborist recommended
watering stressed trees in summer. Trying to get a list of the trees to water –
cost is $10 a tree plus cost of water – vs. $6 per tree, estimate from non-profit Gabrielle has a relationship with. Will vote in closed session.
– Land Use (Tyler) – Gabrielle and Mark B. reported in Tyler's absence:
Development with retail on first floor, Angel City mural project, Hybrid Live-Work Ordinance – Yuval reported/reviewed the history of the ordinance. New version is similar to original with a few changes – main difference is it's not targeted to the Arts District – now it's just an "Industrial District" ordinance. But it will affect the Arts District the most. Favors projects that will look like Mura and Savoy in the Arts District /Little Tokyo.
Instead of keeping the original plan of mixed use, they ignored us and came up with a different plan:
For each unit built there will be 200 ft. of commercial space.
We must collect letters from the public – from people who live in the area and are coming to the area – so we can let them know that we have support. We must educate the public and let them tell the city that they support residences that are artist friendly.
There must be widespread understanding & support – we need to get the word out and get feedback to the city.
There are legal possibilities – if we send letters, there is little chance that our
advocacy effort would do anything to stop this train.
There may be loop holes to stop (or slow down) the train – there may be
studies that they need to do to support their position.
LARABA can send out letters
PR council, public opinion – change.org
LUC can put together some ideas for the August meeting.
They want to rezone the whole city – this ordinance is NOT part of the larger
plan. They are not changing the Zoning – They are adding a new Zone
The City Council is in recess until July 25th
Will have LUC write a letter and will vote to allocate funds in closed session for legal council
River (Yuval) – Reported on warning system for people using bike path so they know when to get out in case of flash flood
Andy reported – The City of LA received a $1 Million award from the Bloomberg Foundation to support Public Art along the LA River.
Currently, the City is planning 5 commissions around the $250K range, five at $100K, and five community programs (not necessarily public art) at $10-$25K. There will be a Request for Proposals coming out for all projects in July/August. The larger commissions are by invitation only.
More info: http://www.bloomberg.org/press/videos/bloomberg-philanthropies-public-art-challenge-winners/
VI. New Business
I. ADCA presentation [15 min]
Mark Rothenberg – architect made presentation
The Arts Districe Center for the Arts will be in 5,000 sq ft. at the end of the One Santa Fe complex. The corner will be a tenant. Gallery in front, it can be divided into 3 sections – flex space, with movable walls. The gallery has a spring floor for dance events. There are rest rooms, a green room/conference room and office.
There will be a small sink & fridge in the green room. Everything is electric.
We have the ability to apply for a liquor license.
We are hoping for wine tasting, etc. in the corner retail space – there are no restrooms in that space, but the ADCA is willing to share bathrooms
Have already invited Lot 613, Ced Moses
Expecting feedback from city in a couple weeks, should be under construction in about six weeks.
Ceilings are12.4 ft.
Actual gallery space is 3,500 sq. ft.
There is limited storage for seating (folding chairs)
II. Artshare [5 min]
Cheyanne presented –
Raised 40% over the budget on Above the Streets project
Launching membership program on July 12th
Emerging Arts Leadership
Modeled after KCRW's Fringe Benefits Program
Membership starts at $100 for membership
Still reaching out to businesses
Don't want to exclude anyone – reaching out to other non-profits to create their own membership program
Will have samples for businesses by August 1st
Program is called Art Share Connect
Would like to eventually change it to Arts District Connect and add ADCA and Cornerstone.
VII. Public Comments
Karen Flores from FOLAR discussed "Find Your Voice"
July 18, 8:30am–2pm at El Pueblo De Los Angeles, volunteers to restore Fig Trees and spruce up fountain, discuss expanding the national park
RSVP to rimofthevalley@gmail.con or call Dennis at 213-482-0642
VIII. 5-10 minute break – 7:53
IX. Executive Meeting [ LARABA members only ]
I. RFF – Jed Schipper LA River Expeditions
$240 for LA River Expeditions
Deborah – within our borders, but must impact out community
Discussion – no motion
II. RFF – Tree Watering
$2,000 Debora made a motion to go with $6 per tree from KYCC to water trees
Joseph – should come out of the community budget
Yuval – ongoing budget for trimming, watering, and planting trees
Yuval – made a motion to allocate $2000 for tree trimming
Chris seconded, Gabrielle abstained. Voted and passed motion.
Chris – ask for next years budget – October
III. RFF – July 18th LARABA Mixer
Invite artists and businesses
Budget up to $500 for food & beer
Debra made motion, Mark seconded. Voted and passed motion.
Most will be donated.
Community gathering – invite only – 50 people
July 18th Saturday at 8pm
IV. Discussion – ADCA
Tim – needs $600,000, can raise $300,000 in grants
$25,000 in funds from film revenue
Need to come up with $250,000 from neighborhood
Pushing fundraising
Operating budget is $100,000 a year
Unusual Suspects – 3 theatre companies
Have 12 plays ready to
Opening is now March 2016 same as Hauser Wirth & Schimmel
Just received a $5,000 grant for the opening exhibition, but need to have the show completed by July 1st 2016
LARABA is the largest fiscal sponsor for ADCA
Joseph – there are 2 issues:
1) Film revenue
2) Support of ADCA
Joseph – would like a contract from Tim and LADAD/ADCA
Mark W. would like to see the books
Tim told the history of the of the film revenue in the Arts District
Draft an agreement that solidifies our relationship with LADAD space
Offer LADAD a management contract that they manage the Film Revenue business
Allow LADAD to keep the revenue for this year
Allow LADAD to keep revenue for the following year also
Use the 2014 budget template as our agreement with LADAD space
First motion:
Move that we use the approved budget that we agreed and on sent to Tim on May 5, 2014, as a basis to sign a management contract between LARABA as the owner of the film revenue and LADAD providing management services and real estate space within their space to be built as an art center.
Yuval made motion, seconded by Gabrielle
Second motion:
Filming revenue from 2015 shall be retained by LADAD to build the ADCA, and the revenue from 2016 shall be retained by LARABA less management fees.
Yuval made motion, Mark Borman seconded
Mark receded the motion – we need to negotiate a plan moving forward.
Mark wants to see a business plan and audited books
Joseph would like to see LADAD space books.
Joseph would like to come to an agreement as to who owns the revenue stream from film revenue. Division of the management funds to be split less management fees. This was the original relationship with LADAD
Who owns the film revenue?
LARABA owns the revenue – it goes through LADAD because it is a 40c3
Did not vote on motions – topic is still up for discussion.
X. Adjournment
Heath made the motion and Andy seconded.
9:19pm