LARABA BOARD MINUTES, MAY 2015
Posted on
November 22, 2015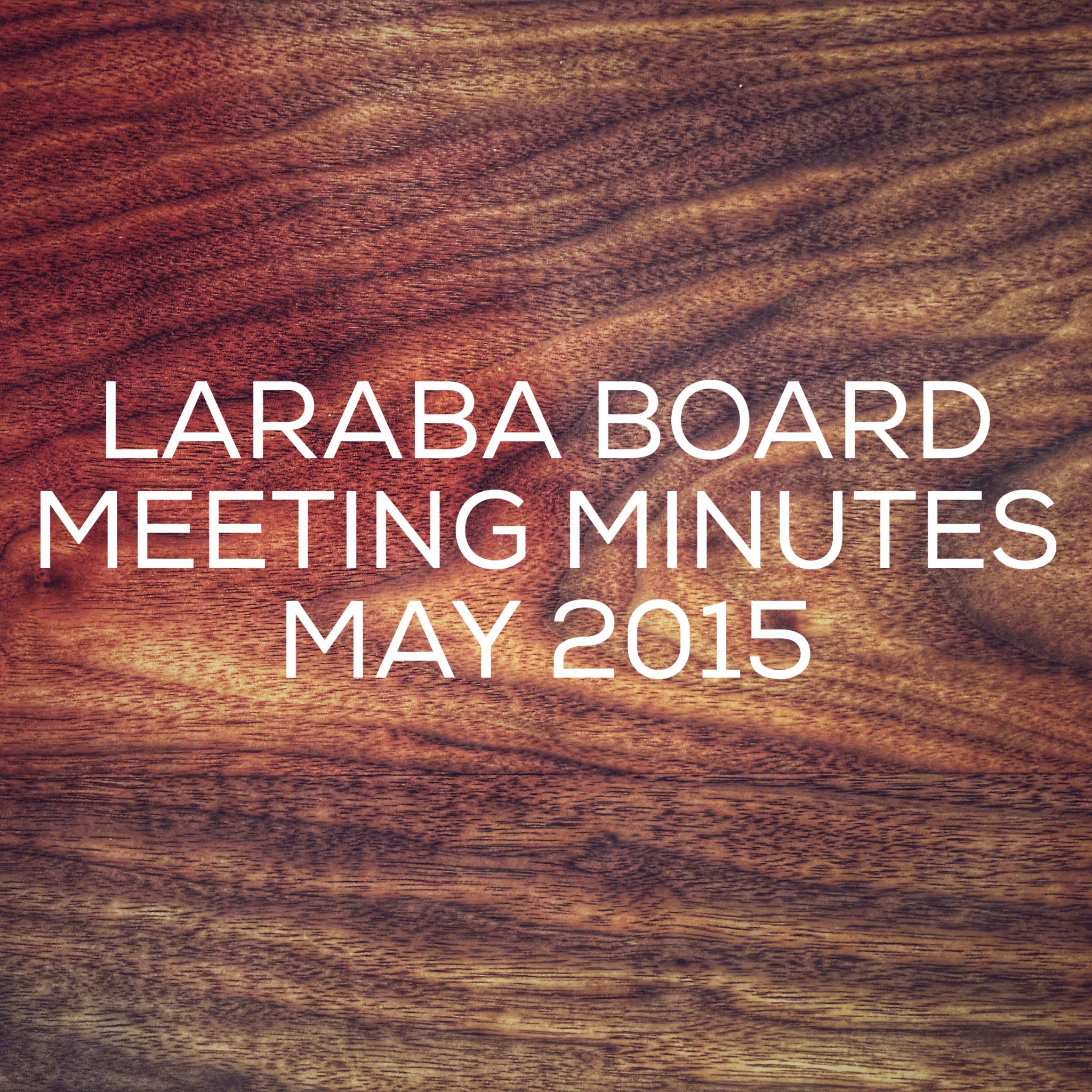 Los Angeles River Artists and Business Association
Minutes for LARABA Board Meeting
prepared by Wendy Sherman
DATE: May 4, 2015, 6:00pm at Art Share
I. Roll Call –
In attendance: Andrew Kasdin, Chris Fudurich, Deborah Meadows, Tom Minkler, Wendy Sherman, Gabriele Newmark, Tyler Stonebreaker, Mark Borman, Mark Walsh, Jamie Bennett, Cindy Schwarzstein, Heath Satow, Joseph Pitruzzelli, Norm Solomon, Vivian Um, Lindsay Hollister, Tim Keating, Yuval Bar-Zemer, Justin Shenkarow
II. Review / Approval of previous meeting's minutes
Voted on and approved – one abstention, was absent
2 changes
Jamie moved to approved, Chris seconded, voted on and approved
III. LAPD SLO Chris Jarvis (absent)
IV. Officer's Report [ President, VP, Treasurer, Secretary ]
Cyclavia – discussion, coming in October
Cindy formed a committee, thinks LARABA should have a presence
Discussed port-a-potties, sponsorship
Negotiating triangle with Angel City – should be going forward
V. Committee Reports
– Assets / Marketing – Lindsay – Reported on Farmers Market, Night Out on Tuesdays to strengthen Farmers Market, Mgmt. switched hands, cards at the Pie Hole. Never Got $300 check for Farmers Market music donation
Not including $300 Geary building (Farmers Market) and $5000 from Nike
– Budget – Joseph – 2014 taxes filed, $58,339.52 reserve: $5,551.41
Cash for $260 – donation to Dog Park – tips from Angel City event
– Bylaws & Elections – Tom – reported on bylaws – need to meet
– BID rep – Yuval – adopted a dog, Miguel nice job mapping street lights, focusing on dark areas, change in the BID
– Dog Park – Dawn – Heath reported on water flow, check water usage.
– Greening – Gabrielle – Metro sent out notification that they were taking out trees, 2 to one replacement. Projects relating to Uncommon Ground.
– Land Use – Tyler ­– Villans Tavern requesting modifications, want to use the parking lot. Made motion to approve letter of support, voted on & approved.
– River – Yuval – reported: phase one of system – measuring height of water, flood control gauges, upload historic data from last 5 years, feasibility study for bike paths, Jamie & Yuval trying to persuade metro not to build a maintenance building next to the 6th St bridge. It's up to the Mayor now. Not optimistic, since the Mayor seems to think it will be OK to build this building there.
Jamie – LA Downtown News is going to do a story
Mayor is Chairman of Metro – delegated to find out from community how they felt and if there were alternatives. Eddie Kim is the reporter – give him a call & express your concerns.
VI. New Business [ 2 min presentations ]
I. Cornerstone Theatre
Caesar & Ellie presented – Free play in Grand Park in June
II. Luxe – On Demand Valet – absent
III. Cafe Gratitude
Riley, Tony & Kate
"Love Thy Neighbor" program – 10% off for residents
Gratitude Bowl $3 donation (minimum)
IV. UG IV [ 5 min presentation ]
Tim – LADAD Space was a sponsor
Heather Flood put it together
Next Month – ADCA presentation
Mark Rothenberg will give a presentation with plans for build out
VII. Public Comments
Charter School – Pablos Ninios presentation
Art integrated into curriculum
Wants to collaborate
Yuval – verified that they are a wonderful organization
Cindy – reported on the Heritage Festival at Angel City, all local artists
VIII. 5-10 minute break
IX. Executive Meeting [ LARABA members only ]
X. Adjournment
Closed Session:
(Not for public)
Justin discussed outreach –
Member of State Assembly lives in Mura
Invite community leaders?
Justin suggested exchange program event like the HCNC did last year
Gabrielle ­ asked – what is our focus as a Go-to organization
HCNC­–LUC has become diluted by being combined
Land Use & Businesses Developed
Project Based or Leaders?
Defined by boundary of Arts District
Arts District – politicians look to us
Need to focus on land use issues – or we will be living with what happened
We have a lot of power and we need to make sure we don't loose that
Land Use – we must be forward thinking & reactive
Precious asset – don't spend a lot of time on stupid stuff when there is a lot of important stuff to do
We put pressure on the police when there was a crime problem and we had action
Tom wants to focus on trying to keep the arts district affordable
Housing for artists
LARABA are the people who care what's going on
More outreach ­– events, flyers, brochures
Land Use committee projects
More people in the community should be attending meetings
We must be reactive when dealing with challenges
Bringing in speakers & legislators, forward thinking ideas, help us think of ideas for our neighborhood
Bring in more people from the neighborhood
Support art events & artists, original questions about architecture in our city –
Open ended, regenerative
Tim – are we an arts or community organization?
LADAD Space is an Arts Organization
Community Betterment – focus on a Parking Lot
Parking study – between 10 fwy & 101
Tyler – Question of Boundaries…
Planning Commission says that LARABA is the "Most Organized & Powerful Group in the City"
The Arts District is a M3 Zone – artists & businesses – unique status
We must fight to preserve this status – live work ordinance
Vivian – the Land Use committee has put us on the map
Mixer with community leaders – keep art in the arts district
Must keep zoning
Vivian will post announcements at the store
Lindsay – it's a special place – lucky to have the space. We employ all artists.
The community doesn't know who we are. Would love it if we were a force to be reckoned with.
What do we have power over and what is out of our control?
Yuval – What we have done with the Land Use committee is as close to revolution as you can get. We are a force that cannot be ignored
We are at a crisis point – inflation in the neighborhood
We are in a good position – we need to stick to our position and hold our ground.
We have very little recourses, we are busy & donate our time
We need to ask for favors to get things done
We need to be a better funded organization – better funded – with staff
If it stays a volunteer organization we will not be able to get as much done
Joseph – It's important that we don't ask "who are we" every year.
Mission statement –
It's what we want to do within this parameter
Address – parking, filming in neighborhood,
Cindy – preserving the creative people in the neighborhood
Not a resource for support for artists and businesses, staff, infrastructure
Visibility – no one knows about LARABA
Need a community event –
Mark W. – support the artists
Web cast local events
Community mixers
Mark B. – LARABA should be a voice / advocate of growing the neighborhood
Stewards of the neighborhood and advocates for the artists
The Arts District is developing at hyper speed
We need a healthy balance within the board – we get business people coming in pitching us, but not a lot of artists
We need to be clear about who we are & what we are
We have a big problem with our brand, our identity, who we are
We are making decisions in a vacuum
We have a lot of competing groups, competing organizations
How do we survive, how do we stay relevant in 3 years, 5 years?
We need capital – membership – dues
Membership – benefits
Heath – Branding idea – LA River? Arts District is nowhere in the name. Logo is bad – need a new logo. Excited about changes – moving from arts district to gallery district.
Heath doesn't think he will be able to stay here after 5 years.
Yuval – email list – method of communication, get the word out to the community – outreach & organize the community.
We need to contract 10 hrs a week – a staff person & phone number
Executive committee – suggest to board how to implement, we need a budget, need to know what can we afford.
Chris – Dog Park group
Facebook Page – private page for Board Members?
HCNC / Land Use Committee – combined – working or not working?
LARABA's voice is diluted
Tyler – regrouping is what's missing
Deborah – Quimby funds, public art funds, music funds
Chris – Set up a committee to look for money
Quarterly get together for land use committee
Live Work ordinance is solving a lot of the problems we had last year
A ton of projects are idling – waiting for the ordinance.
Some time this summer they are going to make a decision on the ordinance
HCNC sees all projects – they come directly from the city
The HCNC is not limited to the Arts District – people don't have a stake in the arts district who are commenting on the projects
The Arts District doesn't have a neighborhood council of it's own
You need 20,000 people for a neighborhood council
We need to have a community event – like Bloomfest
Chris – we need a front office – a common space
LARABA logo re-design?
Can't change the name (to add arts district).
Lindsay – supporting the artists – what does that mean?
Talked about getting the word out
Discussed an Arts District blog or Facebook page
Adjourned 9:20pm