LARABA BOARD MINUTES, SEPTEMBER 2015
Posted on
November 22, 2015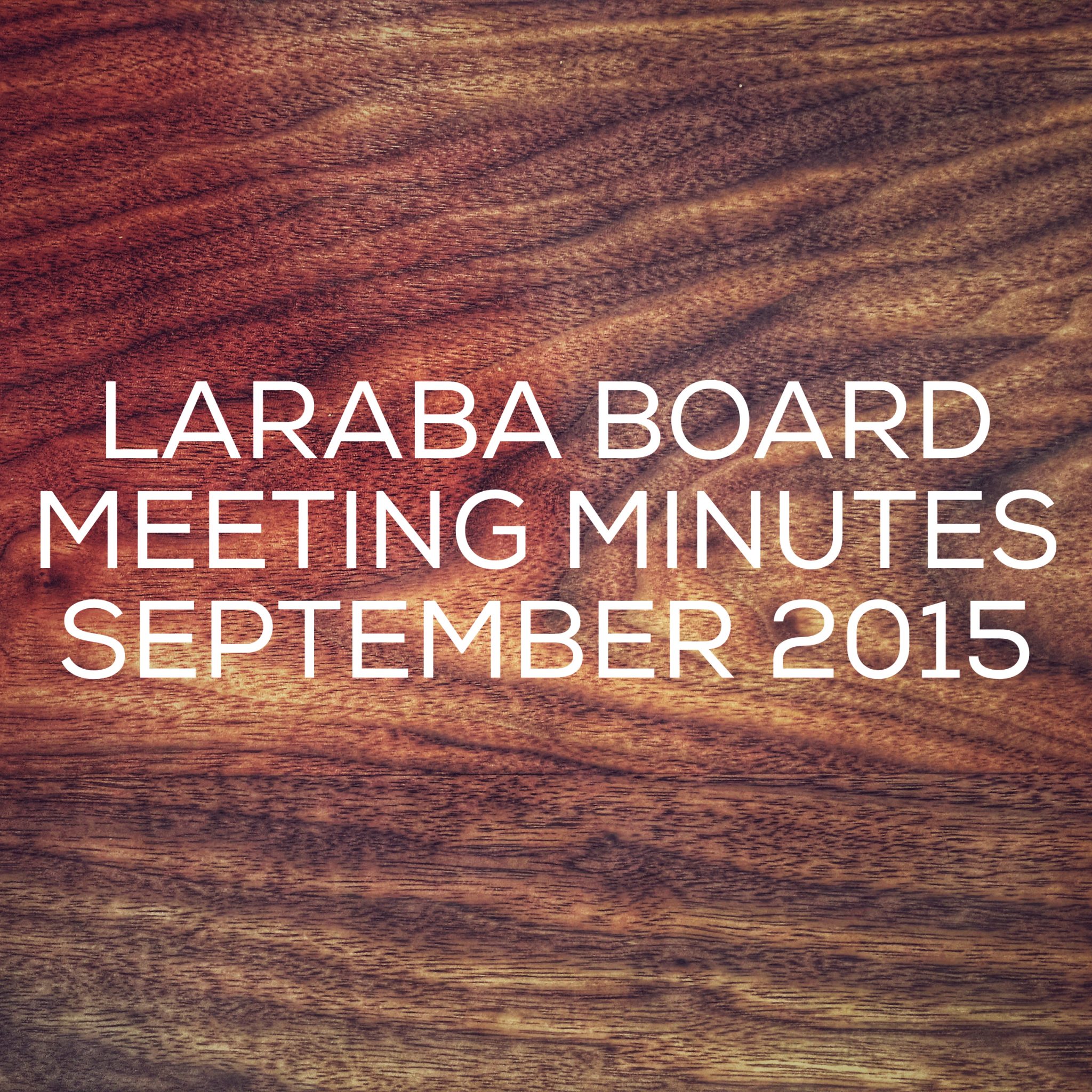 Los Angeles River Artists and Business Association
Minutes for LARABA Board Meeting
prepared by Wendy Sherman
DATE: September 14, 2015, 6:30pm at Art Share 801 E 4th Place LA, CA 90013
I. Roll Call –
In attendance: Chris Fudurich, Deborah Meadows, Tom Minkler, Wendy Sherman, Gabriele Newmark, Mark Walsh, Heath Satow, Beth Topping, Dawn Cody, Jamie Bennett, Tim Keating, Vivian Um (6:48pm), Yuval Bar-Zemer, (7:28pm)
II. Review / Approval of previous meeting's minutes:
Justin Shenkarow has missed many meetings – need to take action
Quorum is one third of board in attendance = 7 people (21 members total)
August minutes – Deborah made motion to approve, edited for public record – seconded by Gabriele, Tim abstained. Voted on July minutes – Mark moved to approve, Tim seconded. July passed unanimously.
Discussion: minutes need to be shorter – for public record
III. LAPD SLO Chris Jarvis (absent)
IV. Public Comments:
American Hotel – Tom M. gave update on incentives for tenants to move out
Josh Goodman of ATAK Interactive introduced himself – new to neighborhood:
https://www.atakinteractive.com josh@atakinteractive.com 310-526-7493 ext.5
Dawn is starting a mommy group – possibly meet at Springs?
Cheyanne offered Art Share as space to meet
Tim announced film screening on Thurs. at Downtown Independent at 9pm
ADCA presents three films: "A Man with Stones: Woods Davy," "Twenty Five Hundred and One" (Alejandro Santiago documentary), and "Tales of the American" – 10 min. short by documentary by Stephen Seemayer and Pam Wilson. Tickets are $10. More info here: http://downtownindependent.ning.com/events/event/listByDate?date=2015-09-17
Cheyanne – This Wed. at Art Share – 6th St Bridge talk from 7–9pm
VIP reception prior – contact Cheyanne if you would like to attend
V. Officer's Report [ President, VP, Treasurer, Secretary ] – no reports
VI. New Business
I. Andrea Uyeda – Owner EdiBOL – introduction [8min]
Discussion – passed out menus. More info: http://www.edibol.com/menu/

II. Gabrielle Newmark – LA River Committee [8min]
Discussed LA River master plan
Letter to mayor about transparency about LA river master plan
Tim made motion that Gabrielle write letter
Tom seconds
Vote: 9 for and 2 abstentions
Timeline – committee meets Sept. 21
VII.Committee Reports
– Assets / Marketing – Lindsay (absent)
– Budget – Joseph (absent)
– Bylaws & Elections – Tom – go over notes and submit any changes or suggestions – please email suggestions early, before next meeting
Discussed elections – having new bylaws before elections
Same process as last year – election service
Chris needs committee budgets for the end of the year
– BID rep – Yuval – Report from Dawn, meeting about the bridge
Discussion: LACE looking for new home, Graffiti, Murals
– Dog Park – Dawn – issues with lock, needs to be reprogrammed, getting more donations, 3 new plaques,
– Greening Gabrielle – identified most in need trees – passed out map, watering trees through Dec. Will postpone if it rains
– Land Use Tyler – Silverlake wine – extended hrs., transit connector discussion: design of plaza in Little Tokyo – invite rep to meeting
Yuval reported on live/work ordinance. Next meeting on Sept. 22st (Tues.) at 2:30pm, need big turn out to convince council member. Hired legal council to write letter. Want to force the city to do a study before passing any ordinance.
Need poster child to post on social media to get a good turn out at the hearing –
Megatoys is an example of what will happen if this ordinance is passed.
All low rise buildings in the AD will be leveled and replaced with ugly hi-rise apartments
– River – Yuval – 6th St. Bridge discussion, arts plaza, access to river, processes of designing space under the bridge, where is the funding coming from? Frank Geary – why? More info? More PR than substance.
Motion to adjourn by Jamie, Yuval seconded
X. Adjournment – 8:17pm