LARABA BOARD MINUTES, MARCH 2015
Posted on
November 22, 2015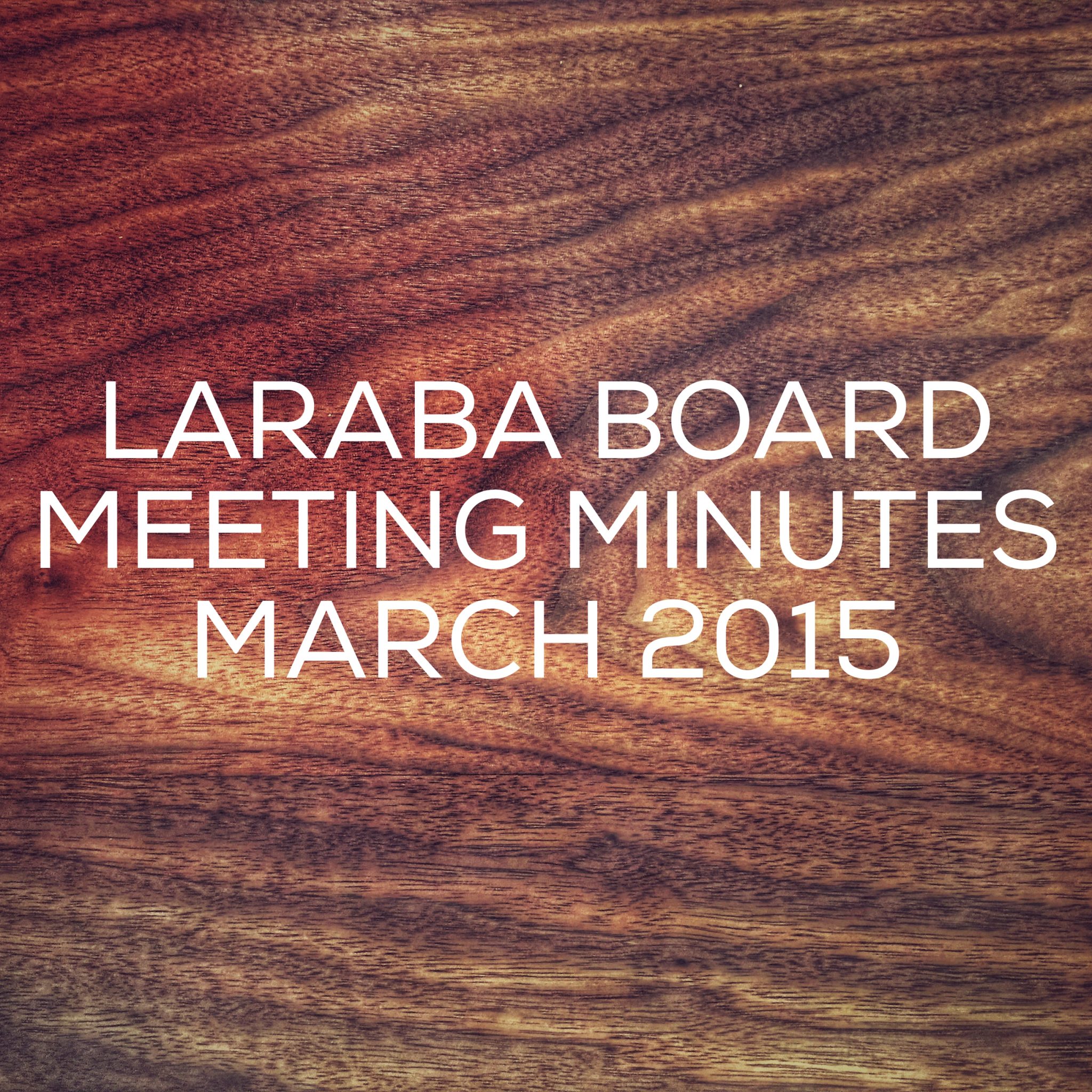 Los Angeles River Artists and Business Association
Minutes for LARABA Board Meeting
prepared by Wendy Sherman
DATE: March 2, 2015, 6:30pm at Art Share
I. Roll Call –
In attendance: Andrew Kasdin, Chris Fudurich, Tim Keating, Deborah Meadows, Tom Minkler, Wendy Sherman, Gabriele Newmark, Tyler Stonebreaker, Vivian Um, Mark Borman, Mark Wlash, Dawn Cody, Lindsay Hollister, Beth Topping, Jamie Bennett, Justin Shenkarow, Beth Topping, Cindy Schwarzstein, Yuval Bar-Zemer, Heath Satow
Guests: Officer Chris Jarvis
II. Review / Approval of previous meeting's minutes
Tom had a change to the Feb. 2015 minutes: Building unlivable – not correct: Bathrooms being renovated; Entire downstairs is NOT gutted – just section that is where Al's Bar was. Rent not accepted, one day late – Tom's rent was accepted. Tom reported that the last offer he was made was $7,000 to move out, but he had the option to stay. He figures he's got at least 4 months – until the bathrooms are finished.
Tim – motion to approve with Tom's changes, Deborah seconded. Voted on and approved.
Chris commented that he emailed the American Hotel manager twice to invite him to a LARABA meeting to discuss renovations, but got no response.
III. LAPD SLO Chris Jarvis –
Discusses bike thefts in the neighborhood. Vivian caught one on her surveillance camera in front of the District Market. She agreed to meet with Officer Jarvis to show him the footage on Wed.
IV. Officer's Report – No reports at this time
V. Committee Reports –
– Assets / Marketing (Lindsay) – New Farmers Market postcards this week, $300 for DJ for 4 weeks – Susan wants to give him $75 or $100, maybe restaurants can help sponsor
Chris made motion to spend $300 on DJ for Farmers Market – voted on & approved
Susan also reported that the Farmers Market CSA Farm Stand interest list has been filled
– Budget (Joseph) – Joseph is absent
– Bylaws & Elections (Tom) – researching bylaws (examples)
– BID rep (Yuval) – reported on BID elections
– Dog Park (Dawn) – Dog Park serves other areas as well as AD. Made $105 at raffle, no key chains sold – designed by Heath, free with a $20 donation, see link on DP web site. Vivian wants to accept donations for key chains at the market. Vivian donated refreshments
– Greening (Gabrielle) – Exchanged emails, goals, requests for funds for tree trimming. Will coordinate with Tim & Dawn, people are requesting tree trimming. Gabrielle wants to put proposal together. Jamie – suggested committee reaches out to new developers on planting new trees. Yuval – would like to make requirement for new developers to work with local green organization. Yuval made a motion that we send the bureau of engineering a letter recommending all new developments contract with local organizations for the first three years to insure sustainability, Tim seconds. Voted on and approved.
– Land Use (Tyler) – Held first joint HCNC & Land Use committee meeting
– River (Yuval) – Feasibility study, safety monitoring project, safe or unsafe to ride bike path, installing sensors to measure height of the water, weather forecasting app so people will know when it's safe to ride the bike path.
MTA yard – 6th St. Bridge (Yuval) – Met with MTA. MTA is studying alternatives, with help of Jamie & SCI-Arc came up with alternate sites, but found out they can't qualify for government grant if they move the site. New developments – meeting scheduled at Mayor's office this week with MTA construction division to discuss.
VI. New Business
Presentation – Robert: developing 555 San Mateo, no signed leases – speaking to Fred Segal. Retail with parking, Organic Grocer, Restaurants, "Bracelets, not chains" 6-8 food stores, wants to keep the character of the community. Looking for letter of support. Rent for space is $18/sq.ft.to $24/sq.ft. for large spaces. Decided to table vote on letter of support until next month.
I. Adrian Castanon – Special Event – NTC tour: Health & Fitness, April 24-26
Under 6th St Bridge – Santa Fe Studios. Will close down a couple streets for a limited amount of time. Same weekend as SCI-Arc graduation – route goes around SCI-Arc. Looking for a letter of support. Will discuss in closed session.
II. Dev Bajaj – Brokechella – absent
III. Katherine Casey – The Garey Building ZA-2015-404MCUP (old MegaToys space) Q & A – Presented to Land Use Committee. Concerned about high concentration of alcohol in neighborhood. Still needs to go through approval. Parking issue – only 32 spaces for 5 restaurants. HCNC recommends – less liquor, more parking. Discuss in private session.
IV. Cindy Schwartzstein – Cartwheel Art –
Presentation: Cartwheel Art Tours – discussed her approach to tours since there are many people who are doing tours in the Arts District now. Private groups are approaching Cindy now, wants to let the board know that she is available for private tours. $35 per person is her fee, compared to some tours (from outside of the district) that charge $200 per person. Looking for support – in light of outside tours coming into the arts district. Wanted to remind everyone that she is local and knows the local community. She invites artists and local art scholars (like graffiti expert Steve Grody) to give talks on her tours. Jamie gave Cindy an endorsement.
V. Elizabeth Stewart – The Hub LA –
Impact HUB – positive impact through creative endeavors. Has urban planning background, connected with Yuval early on – 2009-2010. Solo founder on this project – now in its third year at 830 Traction. New business model: peer-to -peer collaboration, focus groups, etc. Now has 230 members, 8,000 sq. feet, full time, part time, or one-time use only spaces, project management. Wants to connect more with the neighborhood. Wants to be a resource. Meeting rooms, class rooms. Mission is social – wants to collaborate. Yuval is on Board of Directors.
VI. Public Comments – Tim: District Gallery opening for Zenka on Saturday, Nolas will be open also. Heath is staying in AD, 5 more years.
VIII. 5-10 minute break
IX. Executive Meeting [LARABA members only]
X. Adjournment– 8:10pm
Los Angeles River Artists and Business Association is a 501(c)4 organization www.laraba.org
03/02/2015 Executive Meeting Agenda (private)
I. Nike event (Adrian Castanon – Special Event – NTC tour: Health & Fitness)
Board does not support – has nothing to do with the arts district, does not support the arts district. How does the community benefit?
Nike local offices are in Culver City they should stay in Culver City
Need to come up with a list of events that we like – as an alternative to these kinds of events.
What about street closures for art projects – we like! Bring back SRL (2005)
Amazing event: http://srl.org/shows/la2005/
Can't support closing the street on a Friday night in the Arts District
We encourage filming; usage fees are put to good use.
Yuval – for every hour of street closure we can charge them a fee. If we decide we want to go that route. Like we do with filming.
We can put together guidelines or a policy – make it a discretionary process.
They can pay for the street closures
Yuval – Made a motion that we give them a price – a proposed donation in return for the street closures.
What is the benefit for the artists? If not, then we charge a fee
The total 2015 LARABA budget for arts is $5,000
We need a 5 or 10-year strategic plan to ensure the survival of our funding
Integrated with bylaws. Development budget needs to be much larger.
Let Yuval & Chris beta test this motion
Yuval made a motion that the executive committee will encourage applicants for street use permits for events and will suggest their mitigation measures and advanced LARABA community goals.
Voted on and approved.
Jamie – subject to a successful meeting with SCI-Arc. Why is it worthwhile?
Can't support it.
The fee is $750 a day for filming.
They are requesting 9 days restricted parking – closed street on Friday.
II. Geary Building – LARABA will only approve a CUP when there is a name attached to it. We want a business attached to a liquor permit – discussion…
Yuval made a motion LARABA instructs that the Land Use committee to only review a CUP application when there is an actual tenant attached to the space.
Chris seconded. Voted on and approved.
III. Live Work Ordinance – rewrite. Must be careful on how land use is promoted by the city, legislate what we think is right for the neighborhood. They were not willing to change anything. We rallied so they did not submit the ordinance; we hired our own professional and drafted our own ordinance. It was circulated to Board – the main points are:
1. The arts district should not just change into a residential neighborhood. We must have a balance of industrial and living space. FAR = 1-1/2, 10,000 sq ft. loft allow hybrid live work, but they are just apartments. Must allow for studio space, work space, living space. Industrial, commercial, included – must be a business – does NOT take away what we have now.
2. Also the size of the units – minimum of 750 sq. ft. NOT minimum average. Average should be larger – 1,000 sq. ft. enough room for an artist to work.
Type of construction – type 1 or type 2 – must be concrete or steel
3. Cannot use walls as weight bearing structure – must be columns & beams.
Restrict use of wood walls – use wood columns & beams. Can't use wood walls as a structure – not as weight bearing structure – must use columns & beams.
4. Preservation – Survey LA: next round will identify every building that has historical value, candidate for historical value, or secondary, will be listed. Must preserve certain elements, so they can't be changed. Must complete survey before development. Working with LA Conservancy.
5. Pull out the Quimby fees from park & rec. Community will have a say in how those funds are spent. See: http://www.laparks.org/planning/quimby.htm
Must stay focused. Will shape the arts district for next 20 years.
Also – change the height proposal to 175 ft. The original was 100 feet. They propose a lower building made out of wood – increase the height.
Biscuit Lofts are 156 ft.
Yuval made a motion: LARABA to send a letter to the City of LA to consider the draft to replace the city proposed Live Work Ordinance, with the Arts District Neighborhood Ordinance and find ways to include affordable housing specifically for artists. Chris seconded.
Voted on and passed unanimously.
Brought to the HCNC which the AD Caucus supports
To give this effort a chance, we must have a broad support for the ordinance – must have the entire neighborhood support it – all committees – architects, residences, neighbors, etc.
What about offices buildings?
There are 5 hotel applications (hi-rise hotels) in neighborhood, up to 70 rooms could be considered under this ordinance.
Discussed affordable housing: According to the planning dept. – the city ordinance cannot legislate affordable housing specifically for artists. The affordable component that serves the community (neighborhood preference – HUD) – people who are priced out of the neighborhood – incentive. Must be fair use – can't be just for artists. The law cannot discriminate.
Federal law trumps city law – elderly and artists, researched through the actors fund. Also Artspace ( http://www.artspace.org ). Depends on how the project is funded. Legislating a law in the City of LA. Low income housing tax credits – preference to artists – NOT only artists. Can be bonuses allowed if the developer provides units to displaced residents or artists. A bonus can be legislated. If you are getting federal HUD money, you can make a preference – can it be in the ordinance? Can it be legislated? An extension of what you have already worked on – an incentive program – affordable housing. We need to be careful that it doesn't sabotage what we are trying to do.
IV. Lindsay discussed Food Trucks taking away business from local restaurants. They are parking on the street all day long, 3-4 days a week. Chris will speak to Joseph and Miguel.
V. Adjournment – 9:35pm