LARABA BOARD MINUTES, JUNE 2015
Posted on
November 22, 2015
in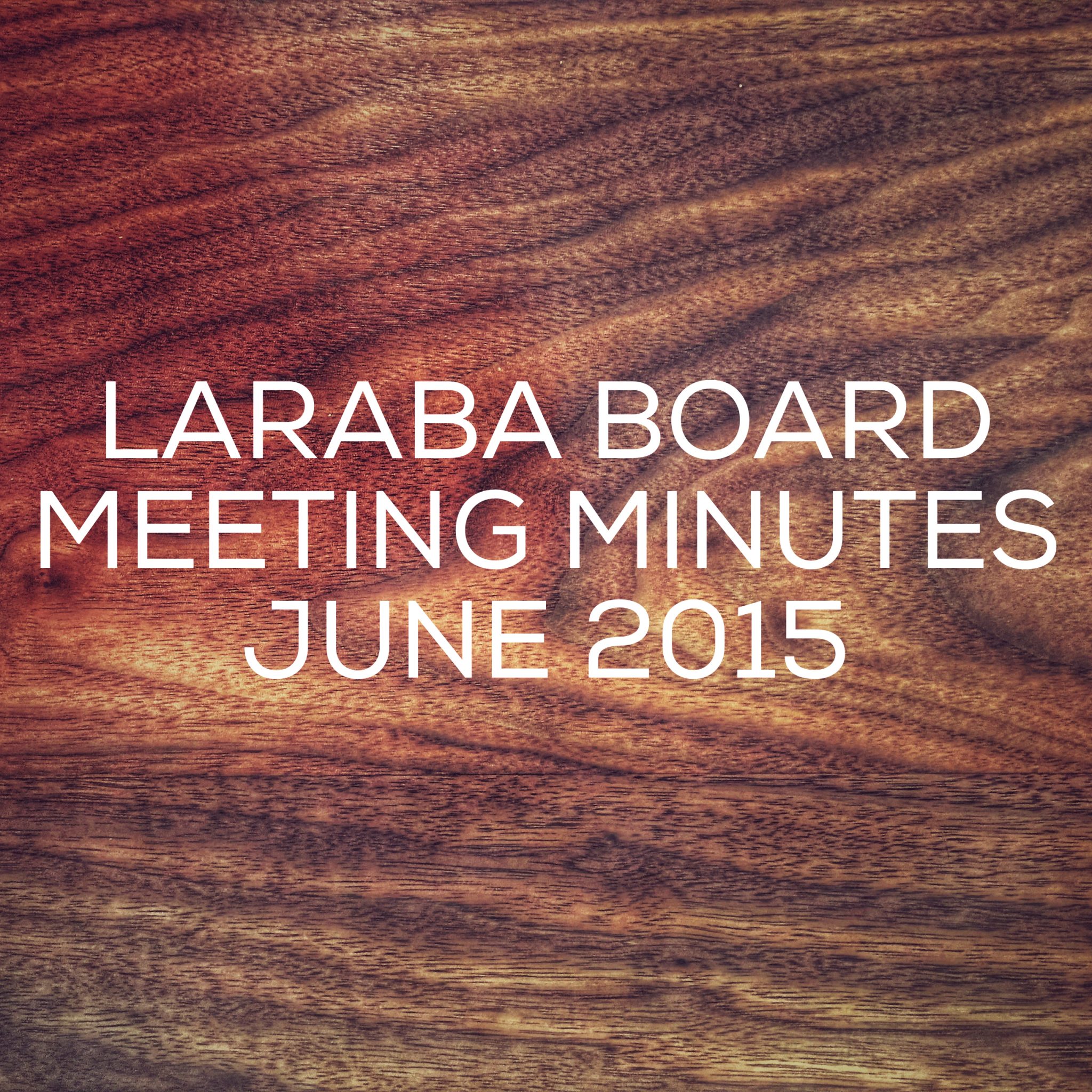 Los Angeles River Artists and Business Association
Minutes for LARABA Board Meeting
prepared by Wendy Sherman
DATE: June 1, 2015, 6:00pm at Art Share
I. Roll Call –
In attendance: Beth Topping, Chris Fudurich, Deborah Meadows, Tom Minkler, Wendy Sherman, Gabriele Newmark, Mark Borman, Mark Walsh, Cindy Schwarzstein, Joseph Pitruzzelli, Norm Solomon, Vivian Um, Lindsay Hollister, Tim Keating, Yuval Bar-Zemer
II. Review / Approval of previous meeting's minutes*
Tempest – Cornerstone Theater 18th & 20th of June – final performance
April minutes – Voted on and approved – one abstention, was absent
Change to April minutes: Tree trimming – for fall not spring
Chris moved to approve, Lindsay seconded, voted on and approved
III. LAPD SLO Chris Jarvis
Rode 300 mi. in 3 days during 3-week event honoring officers who have died in duty in the past year. At Arlington Cemetery in VA
Gave crime map report. Break in at One Santa Fe was an inside job.
Yuval reported on bike theft in daylight at Toy Factory
Pie Hole is getting a bike corral because of recent bike thefts in front of
Pie Hole and Vivian's store
Discussed contacting the BID or LAPD re: thefts. If it's an emergency, call 911
IV. Officer's Report [ President, VP, Treasurer, Secretary ]
Treasurer report: (Joseph)
$60,029.34 account
$5,501.41 reserve
Taking all the money from Farmers Market & paying it all out
Permit fees, etc. approx. $6000/mo. average expenses
V. Committee Reports
– Assets / Marketing – Lindsay – Passed out postcards for Farmers Market
Discussed "One Santa Fe Night Out," target other buildings for same program
Market is staying in the Triangle for now. Need to catch up with Susan.
Still haven't received $300 check from Geary building, will follow up.
– Bylaws & Elections – Tom – reported on bylaws – need to meet
with Jamie & Norm
– BID rep – Yuval – Miguel presentation next month?
Re: thefts – BID hotline: 213-327-0979, Call BID & LAPD – whoever shows up first. Bulky items pick up through the city
– Dog Park – Dawn & Heath – are both absent, no report
– Greening – Tim/Deb – got a new tree in front of toy building on Santa Fe
Gabrielle – will get funding in July
– Land Use – Patricia presentation postponed until July to report on ordinance
She should attend Land Use committee meeting first
– River – Yuval – reported on shed near 6th St. bridge.
Meeting with Mayor & Metro & architects. Metro presented studies – Yuval worked with another firm to come up with another solution to move the building away from the bridge. To make sure there will be a park near the bridge. Everyone thought it was a good solution, but Yuval doesn't trust that they won't change their mind. Scheduling another meeting to assure that they can make the new building design work for everyone. Get a commitment from everyone. Stop the bidding process – get approval from metro board.
VI. New Business [ 2 min presentations ]
I. Cornerstone Theatre – "California: The Tempest"
Caesar & Ellie presented – Participated in Pop Up Parks
Fig & Brie Pie created by Pie Hole
June 18, 19, 20 in Grand Park
Flyers & Email, touring across Calif.
You can donate on web site, or when you see the show
Sunset celebration party & fundraiser, June 20 at Grand Park
Food & Live Music & Play
Chris will post info
Cornerstone Theatre – 25 years in the AD
II. Silverlake Wine – Randy@silverlakewine.com
2 owners ­– owner operated
Just opened – selling wine & beer
Beer & Wine only, food to come, tasting soon
III. Metro Regional Connector
Matthew Marquez
Community Meeting
Wed., June 3 – LAPD 5:30-7:30pm
1st & Alameda
Street closures, restrictions
May 9th – tree removal, will replace trees
VII. Public Comments
Pie Hole / Vivian – Discussed issues with filming in the AD
Underselling the project – they say it's going to be small, but it never is
No connection between LARABA and the filming in the district
Had to call Film LA –
Chris – there is a list at the Film LA website
Chris – Jonathan has gotten me involved so I can help
Chris – compile all issues so that Chris can address issues with Film LA
Yuval – recommendation for business in the areas that are busy
Businesses have unwritten agreement that you never sign unless you all agree on the terms: Time frame, how much they need to pay. They need your signature – give them the menu of items they need to agree to.
Need to organize, or else they will take advantage.
Cindy – Imperial arts studios are no longer
Stone Larkin is looking for space if anyone can recommend
2,000 sq ft. outdoor space. Needs to store his one Eyed Monster artwork
Want to keep it in the arts district.
7:26 public meeting is adjourned
VIII. 5 minute break
IX. Executive Meeting [ LARABA members only ]
X. Adjournment
Closed Session:
(Not for public)
Chris discussed hiring an independent contractor to assist the LARABA Board
Making a motion to budget the money.
Mark Borman seconded
Motion passed
Committee heads
$500/week
20 hrs./week, no more than $24,000/yr.
12,000 to end of the year
1099 employee
If it fits our budget
Administrative contractor
Development assistant
Have own equipment, own hours. – must fit criteria for 1099 employee
Research
Plan for LARABA
Notes for meetings
Web site help
Fundraising, marketing
LARABA's name on the businesses
Farmer's Market mailing
Tim – will make ADCA presentation in July
Needs $850,000 for build-out of ADCA
Have to build bathrooms at $100,000 ea
Will have building permits this week
Made a contract for 2 years of film revenue from LARABA to go to the ADCA
Is requesting funding for 2 more years
Then revert back to LARABA in 2 more years
Approx.$30,000/year
Will discuss fees next month when they make the presentation at the LARABA Board meeting with the ADCA architect
Cindy – CicLAvia is Sunday, October 18 – will be going through AD
http://www.ciclavia.org/events
Cindy would like to form a Committee: Anyone interested in working with Cindy on a HUB in the AD?
Norm? Cornerstone? Keith/Angel City?
Discussed upcoming possible community events – Bloomfest?
Three Year Plan
Chris wants to discuss fundraising
Adjourned 8:00pm