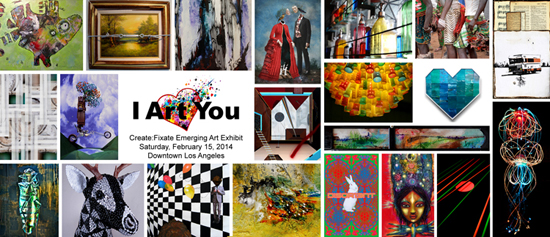 Create Fixate: I Art You! February 15th!
Posted on
January 31, 2014
Dive into Current Creative Culture with Create:Fixate

A quarterly one night art exhibit featuring a signature blend of over 40 emerging artists, designers, DJs and musicians. 

……………………..……………………..……………………..………
Saturday, February 15th, 2014 : 7pm – 2am
Gallery Preview 4-7pm *Kids Kreativity Zone During Preview*
Lot 613 : 613 Imperial St., Los Angeles, 90021
$15 Admission before 9pm/$20 after : Gallery Preview $5 Donation
Pre-Sale Tickets Available at: www.createfixate.com
……………………………………………………………………………
>>> OPTICAL LOUNGE <<<
ART : PHOTOGRAPHY : SCULPTURE : MULTIMEDIA
INSTALLATION : LIVE PAINTING
Andrea Bogdan : Betsy Enzensberger : Brian Robertson : Cary Sullivan 
Clara Berta : Canlove : Javiera Estrada : Kate Carvellas : Kat Shoa 
Laura Velkei : Liz Huston : Mark Edward : Nicole Landau : Outi Harma
Patrick Haemmerlein : Patrick von Jänicke : Sweetieboosh
LIGHT ART INSTALLATION 
Jason Mchugh & Jason Silverio : Jerico Woggon
Mads Rune Christensen : Naim Busek : Shana Koenig 
Todd Moyer
LIVE PAINTING BY 
Benedigital : Johnie Thornton
FASHION/JEWELRY/CRAFTS
Sweet Virtues : Erik Maes Fahmina : Layer 
Momotique : Moon Temple Dreaming : Mourè Designs : Mamacita
STUDENT ART WORK FROM 
A Place Called Home
>>> AUDIO LAB <<<
ELECTRONIC : EXPERIMENTAL : WORLD RHYTHMS : JAZZ : LIVE MUSIC
Wiseacre…..Lift
Mario Cotto…..KCRW
Elizaveta…..Live
Belowme…..Live 
Nightcap…..Live 
Luis Rosario…..Groove Temple
……………………………………………………………………………
CURATOR & PRODUCER Michelle Berc 
CO-CURATOR Jena Priebe 
MUSIC COORDINATOR Andrea Graham
A VERY SPECIAL THANK YOU TO C:F Board Members, Staff, Volunteers. & the amazing artistic talent for their contributions to the C:F community!
……………………………………………………………………………
Visit our website to earn more about our two programs: Create:Fixate Exhibits and our Young Creatives Program serving at-risk youth!
Create:Fixate is a non-profit 501 (c) (3) organization