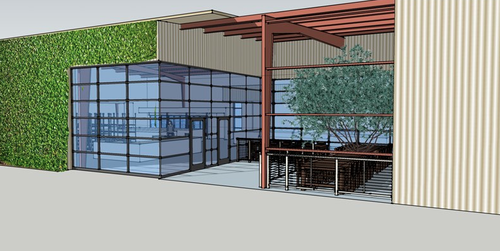 First Market in Downtown LA's Arts District Breaks Ground
Posted on
December 11, 2012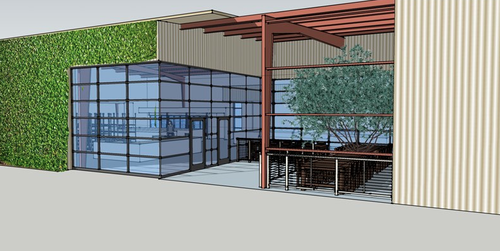 Urban Radish Partners with Creative Space and Linear City to Repurpose Warehouse for Farm Fresh Community Market
FOR IMMEDIATE RELEASE
Los Angeles, CA – December 11, 2012 – Urban Radish, the farm fresh community market set to debut in Downtown Los Angeles' Arts District, announced today that it broke ground on construction. Urban Radish partnered with Creative Space, an integrated development and marketing firm specializing in transforming buildings and places into "housing" for today's most innovative businesses and brands, and Linear City, the real estate developer known for renovating some of the Arts District's most iconic buildings, to bring their vision of an eco-friendly, urban market concept to life.
The architectural vision for Urban Radish, which is the first specialty grocery store in the neighborhood, was to create a space that artfully displays the seasons best locally sourced fresh produce and high quality meats and seafood while encouraging social interaction. The building that houses the market is being re-purposed from an 8,200-square-foot, former glass manufacturing warehouse owned by Linear City and sits within a parking lot at 660 Mateo Street.
Creative Space's Director of Design and Construction, Evan Raabe, worked closely with Urban Radish, whose vision was to keep the architectural attributes of the original space, but also add sustainable design features. The goal of construction was to generate the least amount of impact and waste by using all materials currently in place such as leaving the metal siding. One of the building's most defining attributes left in place is the iconic, larger-than-life-sized chipmunk mural painted on the building's side by street muralist, Peter Roa, for the L.A. Freewalls Project. New design features will include: an outdoor seating area for customers to enjoy freshly prepared, seasonal meals, landscape design featuring native plants to cover, cool and insulate the building from the sun, and one of the largest electric car charging stations in the U.S located in its parking lot.
"The Arts District has emerged as a highly sought after neighborhood for creative businesses and residents alike, but remains true to its roots as a close-knit artist community," said Tyler Stonebreaker, founder and CEO, Creative Space. "It was important to Urban Radish that this market reflect the unique needs and vibe of the neighborhood in everything from the architecture to products sold." 
Linear City, known for revitalizing The Biscuit Company and Toy Factory Lofts on Mateo Street, was identified as an ideal landlord during the location scouting process and had been looking for the right tenant to transform and activate their glass manufacturing building across from the lofts into a business that would benefit the community.
Yuval Bar-Zemer of Linear City, a visionary for the Arts District stated, "People who move into the Downtown area are looking for a change of lifestyle, one that provides them with amenities within a walk-able neighborhood. Urban Radish is in alignment with this unique and diverse community."
Urban Radish is set to open in March 2013.
Creative Space
Creative Space is fundamentally transforming the industry by rethinking the entire framework of the real estate process for businesses and property owners. Headquartered in Downtown Los Angeles's Arts District, Creative Space was founded by Tyler Stonebreaker, a pioneer in the intersection of the creative economy and real estate, and Michael Smith, an accomplished music and media entrepreneur. Creative Space has worked with varied clients in the hospitality, entertainment, fashion and craft industries including Poketo, Handsome Coffee Roasters,OHWOW, Beckley Boutique and Warner Music Group. To learn more about Creative Space, please visit www.creativespace.us.
Urban Radish
Urban Radish® is a farm fresh community market with seasonal fresh produce, high quality meats and seafood, dairy and other daily necessities. The market is being designed around the unique lifestyle of city dwellers whose shopping preferences have shifted from shopping major grocery chains to wanting a more personal experience, farmer's market freshness, and a high quality-to-value priced offering. Urban Radish will have its own customer parking and houses one of the largest electric car charging stations in the U.S. For more information, visitwww.urban-radish.com.
Media Contact:
Melissa Barto
JCUTLER media group
# # #