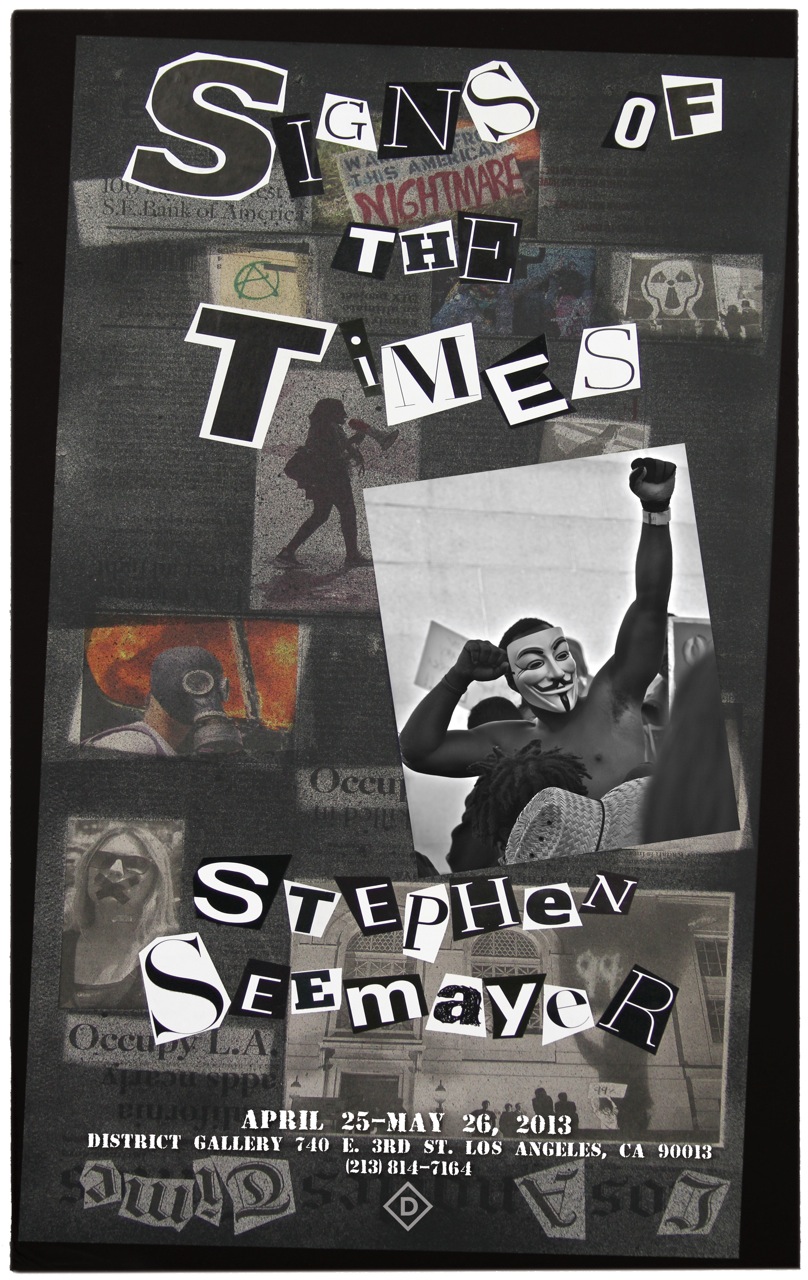 Occupy Art – Signs of the Times: Stephen Seemayer

STEPHEN SEEMAYER EXHIBIT INSPIRED BY OCCUPY L.A.
63 New Artworks Evoke the Struggle to Empower the 99%
April 25-May 26, 2013/District Gallery, 740 E. 3rd St., L.A. 90013
Artist Stephen Seemayer will exhibit new works inspired by the tumultuous two months of Occupy L.A., when activists took over the City Hall lawn demanding greater economic equality for the 99%.
During October and November 2011, Seemayer and his wife, filmmaker Pamela Wilson, spent time nearly every day talking with and documenting the occupiers who were camped out in tents and makeshift shelters around L.A.'s Civic Center. The protesters were showing solidarity with Occupy Wall Street in New York, and pressing for fairness and compassion for working class Americans. They urged a shift in values and a closing of
 the rift between the wealthiest in our society and the 99%.
Seemayer's energetic collages incorporate the slogans and signage that got the occupiers' messages across, along with photographs and graphic stencils of revolutionary symbolism. Each is built on a reconstructed front page of the Los Angeles Times for each day of the occupation and for the last night when thousands of police in riot gear and hazmat suits stormed the site and evicted the protestors.
The exhibit opens at the District Gallery in Downtown L.A. on Thursday, April 25, 2013, and runs through May 26.
AN ARTIST'S RECEPTION WILL BE HELD FRIDAY, APRIL 26, FROM 7-10 P.M.
For more information about Seemayer's career and a video teaser to the exhibition go to stephenseemayer.com.
# # #
For more information or to schedule an interview with the artist, call Jonathan Jerald at 213/814-7164 or email artsdistrictla@gmail.com